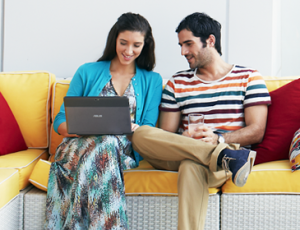 With Father's day coming directly at us I know I've been asked more then once what can I get my husband thats practical?   How about upgrading that outdated copy of Microsoft Office – sure that 2003 edition is still working why do you need anything different? well one major issue is that schools and office environments upgrade to the latest and greatest editions – and learning and practicing at home is key to success in the office or school.
For less then $100 you can upgrade for the new Office 365 which will give you 5 copies of the latest Office during your subscription.
Thats the key to this gifts – its a subscription – you can go buy a license and thats it you're locked into this version of office but with the annual subscription you'll keep getting updates another different is with the subscription you get 5 copies between PCs or Macs or even select mobile devices.
Plus as a bonus an hour of Skype phone calls each month which is pretty solid for that want to keep in touch with those friends that live overseas and if thats not enough how about 20GB of SkyDrive (Microsoft online storage space).
Not sure he'll like it? Try the free trial for a month.
Ok you're totally sure he'll love it? Here's the purchase link.
Wondering how you can get in on the action – remember you have 5 installs of the latest and greatest version of Office he's the how to… How to Install Office on more than one computer.
And we've got a download code for ONE winner to have ONE YEAR OFFICE 365 subscription in this giveaway!

How to win it… Contest ends 11:59pm EST. June 8th, 2013.
Leave a comment why you want to win this prize and please include some method for us to contact you in the comment (twitter or email).
You get 1 extra entry for tweeting about this contest (you can do this daily). Must contain the following information: @office @dadarocks – http://dad.am/18vJ7De and you must also comment with the link to your tweet.
Example: I want to win a subscription to @office 365 from @dadarocks what a great #FathersDay gift idea – http://dad.am/18vJ7De #giveaway
You get 1 extra entry for following @dadarocks on twitter – www.twitter.com/DaDaRocks You must comment that you're a follower.
You get 1 extra entry for following @office on twitter – www.Twitter.com/office

You get 1 extra entry for becoming our FAN on facebook – www.facebook.com/DaDaRocks You must comment that you're a fan.
You get 1 extra entry for liking this page on facebook (like button at the top of the post NOTE: you must be signed into facebook for it to work!) You must comment that you've liked it.
You get 1 extra entry for G+ this page on plus.google.com (click on the little G+ icon below) You must comment that you've G+ it.
You will have 24 hours to reply before we pick another winner!
Disclaimer: Microsoft Office supplied the prize for this contest and it is limited to the USA.