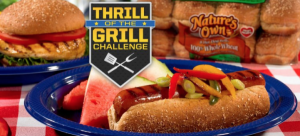 If you're asking whats Nature's Own – you might not have family in Texas – its pretty much the best bread you can get.
The taste is amazing, and when you get your bread fresh from the store – its soft and fluffy just like good bread should.
Nature's Own offers you quality bakery foods for every meal–soft variety breads, premium specialty breads, white breads, buns, sandwich rounds, and English muffins, bagels, and breakfast breads.
If you head over to the Nature's Own Facebook page, you can enter to win a Big Green Egg® prize pack! Its a pretty sweet grill.
Thanks to Nature's Own for putting me into challenge, and  sending me samples so I could really try the bread out… For that alone I'm now a big fan! I love the butter bread – it was simply amazing…
Now here's your chance to get involved…. I gave you a grilling tip in my video – I want you to comment below with your grilling tip… it can be basic, it can be how you prep the food… anything… even grandma's secret bean recipe – go nuts with it.
If I win – you'll win… as I'll give $100 to one lucky fan – who leaves a comment.  Between a few bloggers this challenge is for a Big Green Egg® isnt that cool? so if I take home the prize – someone here will take home some cash – not a bad trade off.  Leave those grill tips (and only Grill tips in the comments).