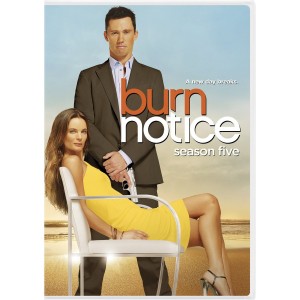 "BURN NOTICE" Season 5 [JR.com | Amazon.com] and "WHITE COLLAR" Season 3 [JR.com | Amazon.com] explode on DVD June 5th from Twentieth Century Fox Home Entertainment. Take home two of TV's sexiest special agents and experience the action, adventure and danger all over again with never-before-seen footage and special features.
"BURN NOTICE"
The Season 5 DVD is loaded with exclusive content including an extended episode, deleted scenes, a gag reel and a thrilling featurette on the villains of "BURN NOTICE." Fans will celebrate the best of the "worst," by exploring the "BURN NOTICE" bad guys and get unique insights from the actors who play them along with a snarky rebuttal on their deeds from "BURN NOTICE" star, Bruce Campbell!
The suspense, betrayal and intense action make Season 5 of "BURN NOTICE" a must-see! Master-spy Michael Westen (Jeffrey Donovan) has just rejoined the CIA as consultant but after being framed for the murder of a close friend, partners with Kim Pearce (Lauren Stamile) to clear his name. After increasingly dangerous and criminal missions, Michael comes face to face with the man who burned him and the one closest to him who knew about it all along.
"WHITE COLLAR"
The Season 3 DVD features never-before-seen bonus footage including deleted scenes, a gag reel, commentary on "Judgment Day," a "WHITE COLLAR" trivia challenge for fans and a hilarious intervention caught on tape by the cast and crew with showrunner Jeff Eastin who's overzealous tweeting gets out of hand!
"WHITE COLLAR" focuses on the unlikely partnership between charming con artist Neal Caffrey (Matt Bomer) and straightman FBI agent Peter Burke (Tim DeKay).  Caffrey provides his expertise to help Burke catch other elusive criminals in exchange for his freedom, and together they prove that in order to solve the hardest crimes, you must hire the smartest criminal.
How to win it… Contest ends 11:59pm EST. June 10th, 2012.
Tell us who is your favorite character from either show and please include some method for us to contact you in the comment (twitter or email). We'll randomly pick someone to win both sets of DVDs
You get 1 extra entry for tweeting about this contest (you can do this daily). Must contain the following information: @FoxHomeEnt @dadarocks – http://dad.tc/JVljgg and you must also comment with the link to your twitter message.
Example: I want to win the @FoxHomeEnt DVDs of #BurnNotice & #WhiteCollar from @dadarocks  – http://dad.tc/JVljgg
You get 1 extra entry for following us on twitter – twitter.com/dadarocks
You get 1 extra entry for following them on twitter – twitter.com/FoxHomeEnt
You get 1 extra entry for becoming a FAN on Facebook – facebook.com/DaDaRocks you must comment that you're a fan
You will have 24 hours to reply before we pick another winner!
Disclaimer: Thanks to Fox Home Entertainment for provided the prize for this raffle