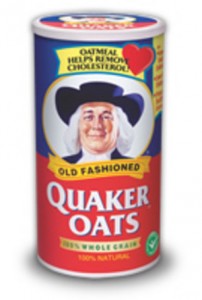 Love the oatmeal cookie – I really do — yah my wife loves chocolate chip but give me an amazing oatmeal raisin cookie and I'm set for lunch most days.  A few days ago I wrote about how Quaker finally came out with pre-packed oatmeal cookies.
Here are some really interesting facts (interesting enough I'm sharing them).
For those that love to cook – try this on for size.
Ingredients:
2 cups all-purpose flour
1 teaspoon baking soda
1 teaspoon baking powder
1 teaspoon kosher salt
1 cup butter (softened)
1 cup sugar
1 cup dark brown sugar
2 large eggs
2 teaspoons vanilla extract
3 cups quaker oats
1 ½ cups chocolate chips or raisins
Step 1: Preheat the oven to 350 degrees. In a mixing bowl put the flour, baking soda, baking powder & kosher salt. Set aside.
Step 2: Beat together on low speed, butter, sugar, brown sugar, eggs & vanilla. Raise the beating speed & beat together until fluffy.
Step 3: Stir in the flour mixture into the butter mixture until no flour is visible. Stir in oats and chocolate chips/raisins.
Step 4: Fill a cookie scoop or a tablespoon with dough. Drop one by one onto a greased cookie sheet. Bake 10-12 minutes until golden but still moist inside. Remove from the oven and let sit.
Eat when cooled.
Sooo go on a celebrate a national heart healthy snack day!
This post was sponsored by Quaker Oats – but no matter – I still love oatmeal cookies.