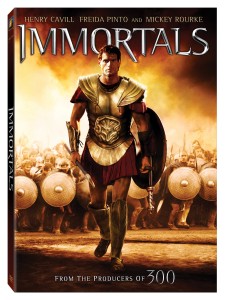 From the producers of 300, Mark Canton, Gianni Nunnari, and Relativity's CEO
Ryan Kavanaugh, IMMORTALS explodes off the screen with action-packed battles,
mythological adventure and an all-star cast including: Henry Cavill (Superman: Man of
Steel), Luke Evans (Robin Hood), Kellan Lutz (Twilight), Isabel Lucas (Transformers:
Revenge of the Fallen), Freida Pinto (Slumdog Millionaire), Stephen Dorff (Public
Enemies), John Hurt (Hellboy) and Mickey Rourke (Iron Man 2).
In this epic tale of vengeance and destiny, power-mad King Hyperion (Rourke) threatens
to destroy all of humanity on his maniacal quest to obtain the ultimate weapon – the
legendary Epirus Bow that gives the power to unleash war on both Heaven and Earth.
But Theseus (Cavill), a heroic young villager chosen by the gods, rises up to stop
Hyperion's brutal rampage. With supernatural help from the beautiful oracle Phaedra
(Pinto), Theseus embraces his destiny and leads a fierce band of warriors in a desperate
fight for the future of mankind.
You could pick up a copy at J&R
How to win it… Contest ends 11:59pm EST. March 11th, 2012.
You must comment telling us Which character in IMMORTALS is threatening to destroy all of humanity? please include some method for us to contact you in the comment (twitter or email).
• King Hyperion
• Theseus
• Poseidon
You get 1 extra entry for following us on twitter – twitter.com/dadarocks
You get 1 extra entry for following them on twitter –twitter.com/FoxHomeEnt
You get 1 extra entry for tweeting about this contest (you can do this daily). Must contain the following information:
@FoxHomeEnt @dadarocks – http://dad.tc/zJCeTT  and you must also comment with the link to your twitter message.
Example: I want to win IMMORTALS  from @FoxHomeEnt & @dadarocks – http://dad.tc/zJCeTT
You get 1 extra entry for becoming a Fan on facebook – facebook.com/dadarocks you must comment that you're a fan
You get 1 extra entry for subscribing to our Feedburner digest mailing (right side subscribe by email) – you must also comment that you've subscribed
You will have 24 hours to reply before we pick another winner! Limited to the USA.
Disclaimer: Fox Home Entertainment is providing the prize for the raffle.