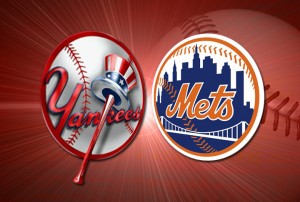 Father's day is rolling up and I was doing this BBQ thing but seems thats not happening well good thing in New York City there is always something to do… so this Father's day will be the first time we're taking kiddo to the ball game!
It'll be a great family outing on top of wifey, kiddo and I, we'll be adding papa (my father).  This will be the first time for any of us to the new Yankees Stadium, it'll be the first ball game for the kiddo and I couldnt be more excited.
I'm pretty pumped to be able to offer this next part… Win 2 tickets to the game!This is going to be a very short contest and will require you to be sitting next to us at the game (I'll apologize now for kiddo tossing anything at you [just be glad your not the person sitting in front of kiddo]) on top of the tickets you'll also get a Father/Kid sized Yankees Jersey. Overall how could this not be the best father's day ever… if you dont have a lil kid and want to take a big one thats fine too – when it cames to baseball we're all kids at heart.
How to win it… Contest ends 08:59am EST. June 19, 2010.
You must comment telling us your favorite baseball player (playing today), please include some method for us to contact you in the comment (twitter or email)
You get 1 extra entry for following us on twitter – twitter.com/dada_rocks
You get 1 extra entry for tweeting about this contest (you can do this daily). Must contain the following information:
#Mets_vs_Yankees @dada_rocks – http://bit.ly/aePopA  and you must also comment with the link to your twitter message.
Example: I want to win the #Mets_vs_Yankees tickets from @dada_rocks – http://bit.ly/aePopA
You get 1 extra entry for becoming a Fan on facebook – facebook.com/dada_rocks you must comment that you're a fan
You get 1 extra entry for subscribing to our Feedburner digest mailing (right side subscribe by email) – you must also comment that you've subscribed
You get 1 extra entry for becoming a friend on Google Connect (right side below facebook box) – you must also comment that you've become a friend
You will have 6 hours to reply before we pick another winner! Once again you will be sitting next to DaDa Rocks! and you will have to meet me to get the tickets on Saturday at some point in NYC.

Disclaimer: Pampers is providing the prize for the raffle.