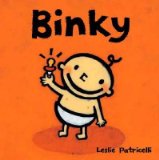 While there is a novelty in the idea of a pacifiers that is labeled mute button [ Amazon ] there is a great deal of truth.  My child has had his binky since his first day at home… we call it a Binky mainly because of the book Binky [ Amazon ], which we've ready almost daily to Marc as well.
There has been some rumors since 2005 that having a binky may even help fights SIDS (I'm not sure but we went with it because of that and a few other reasons). When you Google Pacifiers and SIDS you get a bunch of results [#1 – Dr. Greene].
We've used a ton of brands First Years [We loved the Soothie], Avent [Which Marc still uses], MAM, Born Free [which make a great teether with gum massager], a RaZbaby [ Amazon ], and event a thermometer binky.

With all those binky we now enter into accessories like Skip Hop Pacifier Pocket and of course a BooginHead Pacifier clip [ Amazon ], which he sleeps with because he was throwing his plethora of binkys out of his crib at night and crying until we came in to get them or him.
But its time is soon coming to an end again… we had pretty much gotten it to car trips, naps and bedtime… We will begin that again in a few weeks – when did you start working on taking your baby off the baby crack?