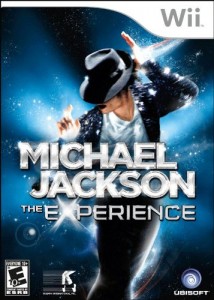 It's time to break it down! Look think what you will of Michael his music was amazing and I dont know if there is more then 3 tracks that he's ever created that wont have you tapping a toe in less then a minute.  The Experience is from the line of games by Ubisoft – its awesome how they nailed the moves, nailed the music, and give you so much game play in just one artist.
When I first took this game out my wife and I danced for over 2 hours and even stopped for dinner in between rounds. We keep trying to beat each other scores, dance to tracks from easy, medium and hard.  Even my little one could dance to some of the simple tracks.
Check out whats included on Michael Jackson The Experience track list:
Bad
Beat It
Billie Jean
Black or White
Dirty Diana
Don't Stop 'Til You Get Enough
Earth Song
Ghosts
Heal the World
In The Closet
Leave Me Alone
Money
Remember the Time
Rock with You
Smooth Criminal
Speed Demon
Streetwalker
Sunset Driver
The Girl Is Mine
The Way You Make Me Feel
They Don't Care About Us
Thriller
Wanna Be Startin' Somethin'
Who Is It
Will You Be There
Workin' Day and Night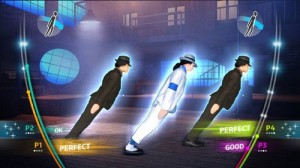 After checking out that list I bet there is like 6 songs – you're already thinking about listening too or wanting to play now…  This is an awesome party game because you can rock it with up to 4 players with a few different game modes Battle one-on-one (or two-on-two) in Challenge mode, form your own dance crew, or be the star with your friends as your very own back-up dancers.
I totally think Michael Jackson The Experience for Wii is worth a purchase [Amazon]. You know what the awesome part is – that we're giving one away.
How to win it… Contest ends 11:59pm EST. February 17th, 2011.
You must comment telling us which song youwould rock out too? please include some method for us to contact you in the comment (twitter or email)
You get 1 extra entry for following us on twitter – twitter.com/dadarocks
You get 1 extra entry for following @ubisoft on twitter – twitter.com/ubisoft
You get 1 extra entry for tweeting about this contest (you can do this daily). Must contain the following information:
@ubisoft #MichaelJackson  @dadarocks – http://dad.tc/hEzUPb #UbiChamps  and you must also comment with the link to your twitter message.
Example: I want to win @ubisoft #MichaelJackson Thanks to @dadarocks – http://dad.tc/hEzUPb #UbiChamps
You get 1 extra entry for becoming a Fan on facebook –facebook.com/dadarocks you must comment that you're a fan (and leave a little note on the wall)
You get 1 extra entry for subscribing to our Feedburner digest mailing (right side subscribe by email) – you must also comment that you've subscribed
You get 1 extra entry for becoming a friend on Google Connect (right side below facebook box) – you must also comment that you've become a friend
You will have 24 hours to reply before we pick another winner!
Disclaimer: Thanks to Ubisoft for the prize for this raffle. It's also limited to the USA too.