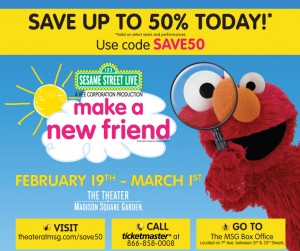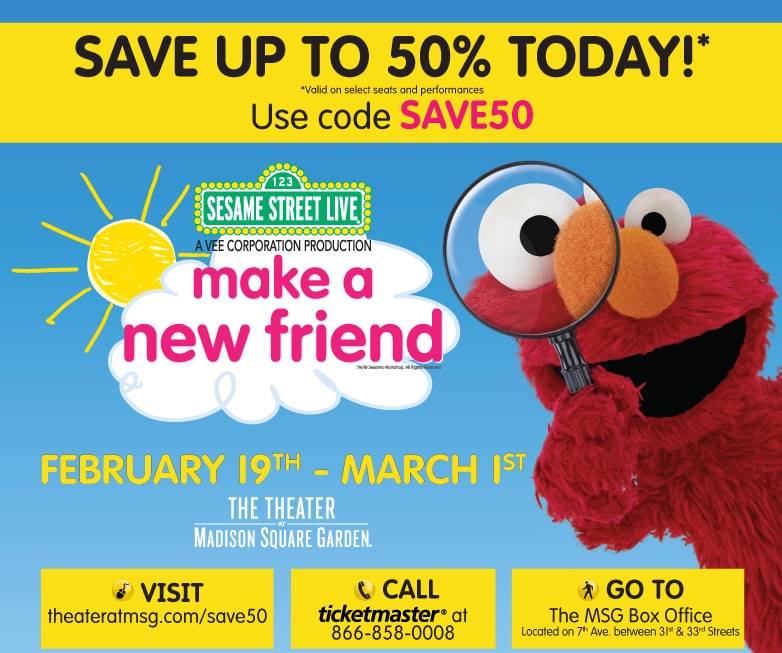 Find furry friendship with Sesame Street Live "Make a New Friend" playing at the Theater at Madison Square Garden from February 19 – March 1, 2015.
No matter where you're from or where you've been, everyone is special – so join in! Elmo, Grover, Abby Cadabby, and their Sesame Street friends welcome Chamki, Grover's friend from India, to Sesame Street. Together, they explore the universal fun of friendship and celebrate cultural similarities, from singing and dancing, to sharing cookies! Join the fun and make a memory with your friends and family!
Use code SAVE50 and visit http://www.theateratmsg.com/save50 to save up to 50% on tickets today!
WAYS TO PURCHASE:
USE CODE: SAVE50
Visit: theateratmsg.com/save50
Go: MSG Box Office, 4 Penn Plaza (7th Ave. between 31st & 33d streets, NYC)
Call: Ticketmaster at 866-858-0008