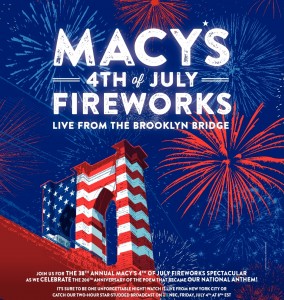 Every year rolls around the thousands turn out to watch the fireworks but there is always the question of how do I get to see the awesome fireworks up close – thats called VIP tickets.  It's always nearly impossible to get VIP tickets to the big show until now… Our friends at the South Street Seaport Museum has a limited number of VIP tickets for sale.
 *** UPDATE *** We have just been given a special promo code for 15% off the ticket prices use coupon/promo code: 4July1514.
The Seaport Museum has two option to having an incredible view for the Macy's 4th of July Fireworks Celebration… first option is to be on Pier 16 – the second option is  take a sail aboard the Pioneer – talk about VIP it includes drinks & hors d'oeuvres – its limited to 40 people – what could be the most romantic way to watch the fireworks!
If you become a member of the South Street Seaport Museum – you save a ton on those VIP tickets – really membership pays for its self with the savings from one ticket!
Plus the Seaport Museum does an amazing job at teaching our kids about the history of Manhattan and how important the waterways & shipping ports were to this city.

More about the South Street Seaport Museum…
South Street Seaport Museum is a non-profit cultural institution preserving and promoting the historic district of South Street Seaport in New York City. Founded on May 22, 1967, the South Street Seaport Museum (SSSM) is dedicated to telling the vital story of the foundation of New York and its link to its great natural harbor.
The museum preserves and interprets the history of New York City as a place where goods, labor and cultures are exchanged through work, commerce, and the interaction of diverse communities. Designated by Congress as America's National Maritime Museum in 1998, SSSM is located in a 12 square-block historic district on the East River in Lower Manhattan, the site of the original port of New York City.
The Museum is comprised of key historic locations such as Schermerhorn Row, our working trade centers on Water Street, and on the "Street of Ships" at Pier 16. These exhibitions and educational facilities are located in the South Street Seaport in New York City's largest concentration of restored early nineteenth century commercial buildings.
The Museum houses exhibition galleries, working nineteenth century print shops, a maritime library, a maritime craft center, and the largest privately-owned fleet of historic ships in the country.