I was asked to put together a team of bloggers to take on another few groups of bloggers in a heated trivia contest… of course my team of Jill of Glamamom and Lauren of A Mommy in the City kicked some bootay… we got 5 of 6 correct – a few twitter shout outs later and we rocked it!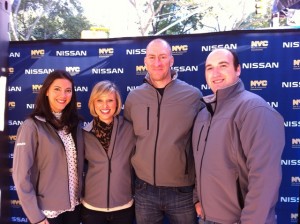 While raising money was one goal – checking out the new cabs that will be taking over NYC in 2013 wasn't a bad thing either.  There is a long list of features down below.
When it was all said and done, we raised $1,000 for The Naomi Berrie Diabetes Center, saw the Taxi of Tomorrow, and got to watch Jill snuggle up to Ben Bailey (yah it was embarrassing).
yup thats us rocking it… Here is the video of Team 1, Team 2, and Team 4 – once again thats us killing it.
Nissan's Taxi of Tomorrow…
A transparent roof panel to provide unique views of the city (those traffic jams in Times Square will be worth it finally)
USB charging access for passengers ( carry your usb sync/charge cables)
Upright cargo space to accommodate luggage for 4 passengers (Great for parents with strollers)
Flat floor with no hump (hello leg room!)
Passenger controlled independent read-seat heat / air conditioning
Enhanced interior materials intended to help reduce airborne odors
Breathable, anti-microbial, easy to clean and environmentally friendly seat upholstery
And the best part…When the NV200 Taxi is deployed across the entire taxi fleet, the equivalent of 4 square acres of space will be freed up on City streets. So when will you see one of these Taxis of tomorrow on NYC streets? Roll out begins October 2013!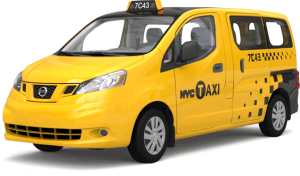 Other then the incredible donation Nissan provided to Naomi Berrie Diabetes Center they provided me with a jacket and signed Cash Cab board game by Ben Bailey, host of Discovery Network's Cash Cab.