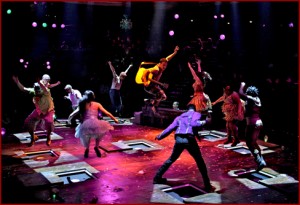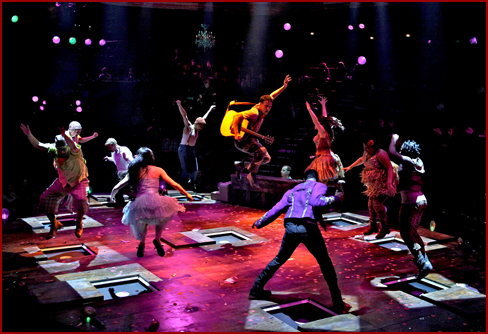 Long before Wicked was on broadway there was Godspell by Stephen Schwartz.  Its a very interesting take on a what I would have imagined being a very slow and drama filled play… it was rather up beat and popcorn-y.  I will say being not so religious myself this was a little much for me in that area but it still held my attention and I could totally see many people really enjoying this show.
There was a large interweave of comedy which really helped keep me interested in the show. It also helped that Jesus is played by Hunter Parrish, from TV's "Weeds" (one of my favorite shows on TV) creates a group of followers out of disaffected, isolated youths gabbing on their cellphones. Pokes at Facebook, "Purple Rain," Lindsay Lohan, childhood obesity, death of Khadafy, and Donald Trump kept me chuckling between the little bit of heavy parts.
I think this would be great for any teenager who wants a relevant connection to the content, this certainly isnt the play I'm taking anyone under the age of ten too. They really wont get the subject matter and will be ready to bolt the moment the first few scenes/acts are over.
This would be a good date night show since its located right off the northern end of times square. Just make sure you're both cool with the religious aspects.  The great thing about the theatre is there isnt a bad seat since its done as theatre in the round.

DISCOUNT CODE: GSMDR79
$79.50 / $89.50 (Sat Eves)  Certain black out dates apply  Valid through 12/23/11
http://www.broadwayoffers.com/go.aspx?MD=2001&MC=GSMDR79
How to win it… Contest ends 11:59pm EST. November 16th, 2011.
1 lucky winner will get a two ticket voucher to see the show… Tell us who you would take to see the show and please include some method for us to contact you in the comment (twitter or email).
You get 1 extra entry for tweeting about this contest (you can do this daily). Must contain the following information:  @bwaygodspell @dadarocks http://dad.tc/teXPGR — and you must also leave comment on this blog with the link to your tweet.
Example: I want to win tickets to see @BwayGodspell  thanks to @dadarocks & @mamadramaNY – http://dad.tc/teXPGR
You get 1 extra entry for following Godspell on twitter – twitter.com/bwaygodspell
You get 1 extra entry for following us on twitter – twitter.com/dadarocks
You get 1 extra entry for becoming a FAN on Facebook – facebook.com/Godspell you must comment that DaDaRocks.com sent you!
You get 1 extra entry for becoming a FAN on Facebook – facebook.com/DaDaRocks you must comment that you're a fan
You get 1 extra entry for recommending a friend to become a Fan on Facebook – facebook.com/DaDaRocks they must comment that you sent them and you must comment here for the entry
You will have 24 hours to reply before we pick another winner!
Disclaimer: Thanks to Godspell for this prize. Please note this is limited to the USA. My tickets were provided by mamadrama for review.