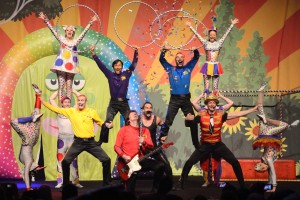 This is the final chance to see the original lineup of The Wiggles ( Anthony, Greg, Murray and Jeff )…and this is also your first chance to see the NEW wiggles Lachy, Simon , and the first female wiggle, Emma. These new wiggles are being introduced at each show as "Wiggles in Training." There are only two NYC shows at Town Hall on Wednesday, October 10th for two shows at 2:30 PM and 6:30 PM.
After 21 years of entertaining and educating children around the globe, Red Wiggle Murray Cook, Yellow Wiggle Greg Page and Purple Wiggle Jeff Fatt have decided to hang up their trademark colored jerseys.
The Celebration Tour, which corresponds with the release of their new DVD and CD, "The Wiggles Big Birthday," will honor over two decades of Wiggly singing, dancing, and performances for children and their parents. Beginning in 2013, The Wiggles will launch a new lineup that will usher in an exciting new era for future generations of children to continue to delight in the Wiggles unique brand of music, fun and learning. The group's founder, Blue Wiggle Anthony Field, will be joined on stage by Lachlan Gillespie, Simon Pryce, and the first-ever female Wiggle, Emma Watkins, who have been handpicked by the group to become the Purple, Red and Yellow Wiggles.
Tickets for NYC are on sale now and are available through all Ticketmaster locations (www.ticketmaster.com) or by calling (800) 745-3000 and the venue box office. Prices range from $39.00 – $85.00 (additional facility fees, service charges and $.50 donation to Reach Out and Read may apply). $85.00 tickets in the Wiggles VIP section are limited, and will include the best seats in the house, an exclusive gift, an activity sheet and your last chance to dance along with The Original Wiggles themselves!
Come and wiggle in the aisles for The Celebration Tour! Audience participation features include:
Start the fun at home by creating a giant wiggly sign.
Having fun with your favorite wiggly pal as they sing and dance through the audience.
Dress up as your favorite character.
Yelling "Wake up, Jeff!" whenever the loveable Purple Wiggle falls asleep onstage.
Children can have even more wiggly fun while they wait for the show by visiting www.WiggleTime.com, The Wiggles' very own virtual world created specifically for preschoolers and their parents. Parents can monitor their child's progress and have access to premium promotional offers, contests, merchandise discounts and presale Wiggles tickets! You can also follow the gang on Twitter via Twitter.com/ItsWiggleTime or become a fan of the group's official Facebook page Facebook.com/TheWiggles