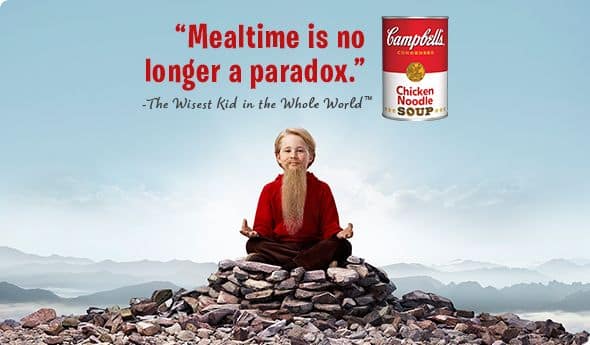 As a child whenever I wasn't feeling ok my mom made me chicken noodle soup and of course it was Campbell's Chicken Noodle Soup. When Campbell reached out to me to be an ambassador – I was honored. Of course being compensated is an added bonus but like all things on this website – my thoughts are my own and if I don't like something I'm not going to post about it. Campbell and their soups have been part of my life for over 30 years and they are part of my child's life.
You might have started to see the "wisest kid" commercials pop up on TV. Personally I love the bit it's great, like having a conversation with my know-it-all 5 year old. Yah Dad I know-how… Really a moment ago you were counting on your fingers to figure out 3+4 but you know why the internet isn't working… Yah welcome to my home.
Campbell had a big Times Square kickoff event where they had the Wisest Kid in the Whole World on hand to answer questions (image).
Now here's some fun. What's the wisest thing you're child has said?….