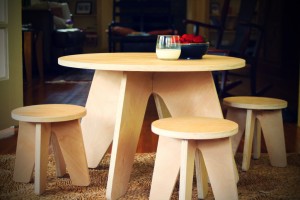 Sodura was established in January of 2011 with one goal: To provide functional, well-made modern furniture. Sodura is made up of parents just like you who want furniture for their child's room that has style, and is still comfortable. In other words, to be modern and have style doesn't mean that it looks like it was made for the Jetson's. You'll see that this furniture is practical, functional, and of the highest quality on the market, and that's backed up by a great guarantee.
Sodura uses eco-friendly products in all of their furniture, so no  lead based paint will be found in the product. Water-based finishes are used, which are low in VOC's and are non-flammable and non-toxic. The wood has no formaldehyde added and so does the glue, which means there won't be any harmful fumes coming from the product over time.  Sodura is based in Louisville, KY where all of our products are proudly made.
About the Table and Stools Set
The table and stools set is a fun little play set for kids and parents, too.  That sounds a little funny that it would be fun for parents too, but it really is a cool little set that won't look awkward when it's mixed in with adult furniture.  Most kids furniture has a cartoon look and feel, but the Aero set is more like modern furniture that is miniature.  Kids can have their play furniture right in the living room or family room and it will add to the interior design instead of distracting from it.  We all know that kids like to have their own special place, but they also want that special place to be close to their parents.
This set is designed to be used for coloring, snacking, or even a play date with games and Lego's.  The set comes with two stools but it's big enough for 4 toddlers and still has enough room for coloring books and crayons.
Colors:
Blonde – Natural wood tones
Whitewash – It is white, semi transparent so that you can still tell it's a wooden table/stool
Cocoa – dark chocolate brown
Dimensions
Table: 26″L x 26″W x 26″H
Stool 13″L x 13″W x 12″H
Material:
Birch outer layer and poplar core.
How to win it… Contest ends 11:59pm EST. December 18th, 2011.
You must comment telling us your what your child would like to do at this table and if you could pick any piece from Sodura what would it be?, please include some method for us to contact you in the comment (twitter or email)
You get 1 extra entry for following us on twitter – twitter.com/dadarocks
You get 1 extra entry for following sodura on twitter- twitter.com/sodura
You get 1 extra entry for tweeting about this contest (you can do this daily). Must contain the following information:
@sodura @dadarocks – http://dad.tc/tF5H2P and you must also comment with the link to your twitter message.
Example: I want to win the @sodura #KidsTableandChairs #giveaway from @dadarocks – http://dad.tc/tF5H2P
You get 1 extra entry for becoming a FAN on facebook –facebook.com/DaDaRocks you must comment that you're a fan
You get 1 extra entry for becoming a FAN on facebook –http://www.facebook.com/pages/Sodura/285592118120096 you must comment that you're a fan
You get 1 extra entry for subscribing to our Feedburner digest mailing (right side subscribe by email) – you must also comment that you've subscribed
You will have 24 hours to reply before we pick another winner! Limited to the USA.

Disclaimer: Sodura is providing this table and chair set for the raffle.