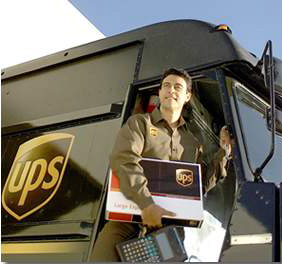 When you're a blogger you get tons of packages (some wanted and some not) and between UPS and Fedex I'm on first name with both guys that show up to drop the packages off.
Every once in a while I'm asked to ship something back out or send a gift to someone and the days of prepaid labels have seen to go away. So lately I've been running to my local UPS Store.  It's awesome being in a city where there are a ton of these little shops that can handle packing it,  and shipping it for me.  I also like that I can pickup supplies, something that seems to always be lacking when you're ready to ship something off.
Be sure to check out The UPS Store to see what they can do for you. #lovinlogistics
Since I want everyone to get a taste of it! I'm going to giveaway TEN $25 giftcards…
How to win it… Contest ends 11:59pm EST. February 9th, 2011.
10 Lucky people will win $25 giftcards to UPS Stores! Tell us what you'd use the $25 towards and please include some method for us to contact you in the comment (twitter or email).
You get 1 extra entry for tweeting about this contest (you can do this daily). Must contain the following information: #lovinlogistics @dadarocks – http://dad.tc/geGEnw and you must also comment with the link to your twitter message.
Example: Entering win $25 to UPS Stores #lovinlogistics from @dadarocks on http://dad.tc/geGEnw
You get 1 extra entry for following us on twitter – twitter.com/dadarocks
You get 1 extra entry for becoming a FAN on facebook –facebook.com/DaDaRocks you must comment that you're a fan
You will have 24 hours to reply before we pick another winner!
Disclaimer: Collective Bias provided the UPS gift cards for this raffle