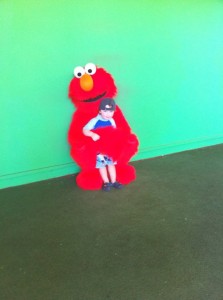 This past weekend we took Marc to Sesame Place this was our first trip with him.  It was well under a two hour drive from New York City out to Langhorne, PA home of sesame place.  The ride was mainly uneventful other then a pit stop at a roadside Starbucks (truly the only drug of choice of my family). We arrived at the Courtyard Marriott Langhorne (the hotel and sesame place tickets were my birthday gift from my sister and father) checked in received our tickets to sesame place and waited all of 10 minutes for the next free shuttle bus to sesame place. Marc couldnt stop saying ELMO it was every 3 word out of his mouth it didnt help that the hotel lobby had a elmo cardboard cut out; that you could tell had been battered by the many kids that just came running up to it trying to give him a hug (yes, Marc was completely in that group too).
Within a 3 minutes we were being dropped off at the park. It was like pretty amazing getting to the park and seeing everyone wearing elmo and cookie monster shirts.  We got into the park in a matter of a minute there was next to no lines and even on a saturday the park wasnt too crowded.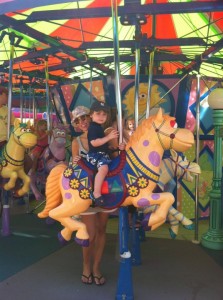 We grabbed a map and off to the rides… its important to note that half of sesame place is a dry park and the other half (ok maybe a little more then half) is a water park.  Our first stop was the carousel. Marc loves carousels but he was really thrilled to be on this one… after that we did a bunch of other rides and character meet and greets. It was awesome to watch my son's face glow – I'm sure the same way my parent's face glowed when they had taken me all those years ago (and my wife grew up with one in the Dallas area, its now closed).  Yup, Marc is a second generation Sesame Place kid (and to me thats very cool!).
I say that sesame place is great for kids of all ages because there are rides clearly suited for the 2-3 year olds which Marc loved, some rides really designed for 4-9 year olds and another whole set thats really designed for the 7-13 years olds.  I noticed that on my second day there that the ages of the kids jumped to the teens, I'm sure that was based on the idea that it was about 10 degrees hotter which might be why the lines for the water park made it a little tough to go on any of the water rides.
I highly recommend going to sesame place, if its your first time it would be tough to due it all in one day but that might be why they sell so many season passes and they're such a good deal… Sesame Place is currently offering one of our best deals of the year—purchase a 2011 Season Pass and enjoy unlimited admission the rest of this season and all of 2011! Families who purchase season passes enjoy unlimited admission to Sesame Place, a 30% discount on all food and merchandise in the park, entrance into exclusive Season Pass Member events and kids eat free at Dine With Me! with the purchase of an adult dinner.
Sesame Place's 2011 season passes are available in three levels. Sesame Passes, $92.00 per person, gives guests unlimited admission into the park, exclusive access to member events, plus a 30% discount on food and merchandise. Big Bird Passes, $122.00 per person, allow guests additional benefits including complimentary general parking, complimentary meet-and-greets with characters, and 50% off single day admission to SeaWorld, Aquatica, and Busch Gardens. Super Grover Passports, $189.00 per person, offer the most benefits to guests.  In addition to everything mentioned above, guests receive unlimited admissions to SeaWorld, Aquatica and Busch Gardens, complimentary preferred parking, and ride again privileges.
I'm a huge fan of the meet and greet which allows your some quality time with the characters before the parade, but it really gets amazing when you have the super grover pass to stay on some of the dry rides again or even better the  Abby's Magic Queue (line cutting) ticket which lets you cut the line on a bunch of dry rides and sit upfront in Elmo's World show (and arrive late). The abby bracelet is an add on but not waiting on lines sooo worth it and they limit how many they sell!
My cousins have season passes and are on they're 4th or 5th trip this season so clearly they're getting their money worth. My step-sister recommends going mid week to really cut down on the crowds but for those not looking to take vacation days the abby pass will save the day on a weekend visit.
I'm hoping for another visit to check out the count's spooktacular!
Well my friends at Sesame Place are kind enough to offer one lucky family a family 4 pack of 1 day tickets to be used some point this season.
How to win it… Contest ends 11:59pm EST. September 11, 2010.
You must comment telling us your favorite Sesame Street Character, please include some method for us to contact you in the comment (twitter or email)
You get 1 extra entry for following us on twitter – twitter.com/dadarocks
You get 1 extra entry for following Sesame Place on twitter – twitter.com/SesamePlace
You get 1 extra entry for tweeting about this contest (you can do this daily). Must contain the following information:
@SesamePlace @dadarocks – http://bit.ly/deS7GH  and you must also comment with the link to your twitter message.
Example: I want to win @SesamePlace tickets from @dadarocks – http://bit.ly/deS7GH
You get 1 extra entry for becoming a FAN on facebook –facebook.com/DaDaRocks you must comment that you're a fan
You get 1 extra entry for becoming a Fan on facebook of Sesame Place – facebook.com/SesamePlace you must comment that you're a fan
You get 1 extra entry for subscribing to our Feedburner digest mailing (right side subscribe by email) – you must also comment that you've subscribed
You will have 24 hours to reply before we pick another winner!
Disclaimer: Sesame Place is providing these tickets for the raffle.