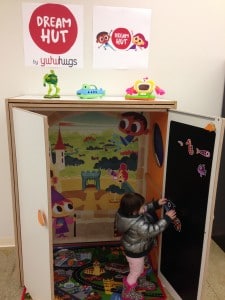 Last week my daughter and I had the opportunity to be one of the first to preview the DreamHut, an innovative playhouse.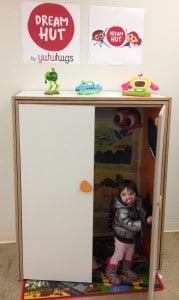 The DreamHut is an innovative new in-door, interactive play space that grows as the child grows. Using nothing but the finest, environmentally sustainable materials, the DreamHut features a stylish compact design that easily opens up in seconds to reveal a stimulating play area and converts into a sleek armoire when playtime is done.
It is perfect for the living room, family room or bedroom. When opened, the DreamHut features a chalkboard, magnetic walls, a folding table, windows, curtains and an interchangeable backdrop with four different Dreams or backgrounds: underwater adventure, fantasy, countryside and outer space. It also features a designated shelf to hold a tablet, where children can download any of four educational iBooks from iTunes including Farmer for the Day, Adventures in the Castle, Space Explorers and Underwater Adventures.
When playtime is over, it can easily transform into a cabinet or desktop and can serve as a storage place for toys. When closed, the armoire is more than 4 1⁄2 feet high and two feet wide. When opened, the DreamHut expands to nearly 6 feet in depth, giving kids enough space to play.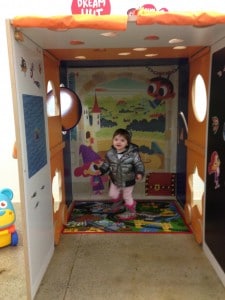 My daughter absolutely loved exploring everything the DreamHut had to offer during my visit. It is very easy to open/close and would absolutely spark hours of endless imagination. Due to the high-quality of the materials used, the product retails for $2,999 but grows as the child grows – and will offer years of use.
Website: http://www.yuhuhugs.com/
Facebook: https://www.facebook.com/yuhuhugs
Twitter: @yuhuhugs