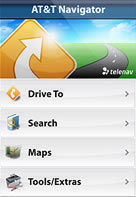 I hate asking for directions – I think it's a guy thing (it has to be in our DNA) but in the recent years we've all seen the range of GPS units. GPS has allowed me to never ask for directions (but does make me ask for people address a lot more then in the past). It's been a life saver at times, no more maps, no more talking to people at gas stations who haven't a clue about directions and going on wild goose hunts. I've always had one big issue is that things change and GPS units get outdated quickly… new roads are built and opened and other roads are closed… Most GPS units now allow you to purchase updated maps but few have live streaming – enter Telenav who has fundimentally changed the way I'll use a GPS.
I'm not flying with anything extra just my cellphone why?! because thats all I need. I have the TeleNav powered AT&T Navigation app (which is a paid subscription) for my iPhone (more information). Its been amazing, so hopefully you'll follow along on from the stories of the road.
You can also follow the rest of the TeleNav Navigators in Chief Dad Panel on Twitter with the hashtag #TeleNavDad. There are five of us in all including the aforementioned Drew Bennett (@benspark) of BenSpark, Josh Becker (@DadStreet) ofDadStreet, John Taylor (@TheDaddyYoDude) of The DaddyYo Blog, and Tshaka Armstrong (@Tshaka_zulu) of Digital Sheperds.
You can find out more about TeleNav through these different outlets.
Disclosure: I am a member of the TeleNav Navigator in Chief dad panel and was provided compensation to participate. While I have received compensation to participate in the program all opinions are 100% my own and honest.