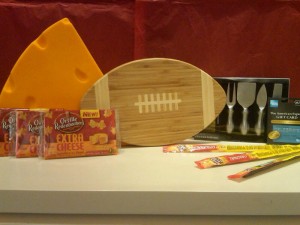 I love watching football, to me its the best sport. No matter the team, no matter the match up its a great game! Add to it some chips and snacks and its awesome right?! Add to it popcorn and you're watching something awesome.  Well I was lucky enough to be one of the first to try out the new Orville Redenbacher's Flavors that are just getting to shelves the cool part is that I'm sharing that joy with a group of lucky 20 readers who will be getting samples but one winner will get an awesome prize package including…
Orville Redenbacher's Flavors in Extra Cheese
 Slim Jims
A cheesehead
A foam football (not in picture)
A football shaped cutting board
Cheese knives
$40 gift card
Back to the flavored popcorn it's sold in three flavors:
White Cheddar for those who enjoy a mild cheese flavor
Extra Cheese for those true cheese lovers who just can't get enough
Sea Salt & Vinegar for the perfect blend of salt with just a hint of sour
I know some of you might be thinking I've tried those flavored things before and their way too strong – which totally isnt the case with Orville Redenbacher's Flavors cause they come as an individually wrapped single microwavable popcorn bag with a seasoning packet that allows users to control the flavor intensity of your popcorn. The popcorn is as always Orville Redenbacher so its my popcorn of choice but then the flavor packs really allow me to kick things up a notch.  So enjoy that game maybe use that gift card for a few beers :).
How to win it… Contest ends 11:59pm EST. October 9th, 2011.
25 Lucky people will win samples of the new Orville Redenbacher Flavors and 1 lucky reader will win the Orville Redenbacher Gift Basket! Do you think you'll snack on Orville Redenbacher's popcorn more now that it comes in new flavors? Which flavors are you most excited to try? and please include some method for us to contact you in the comment (twitter or email).
You get 1 extra entry for tweeting about this contest (you can do this daily). Must contain the following information: #orville @dadarocks – http://dad.tc/oe2tZI and you must also comment with the link to your twitter message.
Example: I want to win the #Orville Redenbacher Gift Set from @dadarocks – http://dad.tc/oe2tZI
You get 1 extra entry for following us on twitter – twitter.com/dadarocks
You get 1 extra entry for becoming a FAN of Orville Redenbacher's on facebook –http://www.facebook.com/orvilleredenbachers
You get 1 extra entry for becoming a FAN on facebook –facebook.com/DaDaRocks you must comment that you're a fan
You will have 24 hours to reply before we pick another winner!
Disclaimer: Orville Redenbacher's provided the gift prize for this raffle.