With Father's Day on the horizon, let dad kick back and relax with some great TV shows on Netflix! We've got ten suggestions for you right here– check out our list below:
| | | |
| --- | --- | --- |
| | | |
1. House of Cards: Three Emmy Award wins including David Fincher ("The Social Network") for Outstanding Directing for a Drama Series and nine nominations including Outstanding Drama Series went to this acclaimed political thriller. Lead Actor nominee Kevin Spacey stars as ruthless, cunning Congressman Francis Underwood, who will stop at nothing to conquer the halls of power in Washington D.C. His secret weapon: his gorgeous, ambitious, and equally conniving wife Claire (Lead Actress nominee Robin Wright).
2. The Killing: Seattle homicide detectives Sarah Linden and Stephen Holder are deeply affected by the murders they investigate in this dark, acclaimed crime series.
3. Mad Men: Set in 1960s New York City, this series takes a peek inside an ad agency during an era when the cutthroat business had a glamorous lure.
4. The Walking Dead: In the wake of a zombie apocalypse, survivors hold on to the hope of humanity by banding together to wage a fight for their own survival.
5. Breaking Bad: A high school chemistry teacher dying of cancer teams with a former student to manufacture and sell crystal meth to secure his family's future.

6. Louie: Louis C.K. plays a fictional version of himself in this series that follows the comedian through the lows of being an awkward single dad in New York.
7. Luther: A dedicated urban detective tries to keep a grip on his personal life while dealing with the psychological factors underlying the crimes he solves.
8. Freaks and Geeks: A group of high school students in 1980 faces various social struggles. Lindsay rebels and hangs out with a crowd of burnouts for starters.
9. Shameless: Unemployed Frank Gallagher — a single father of eight kids — attempts to keep sane, often with a little help from a bottle.
10. White Collar: To avoid jail, an ultra-suave con man signs on to help an FBI agent catch other white-collar thieves but he conceals an ulterior motive.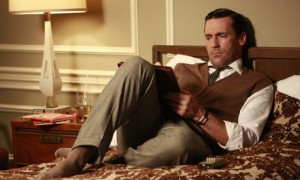 Don Draper from Mad Men has swagger [Urban Dictionary] and he knows what to say at the right moment – which is all about timing. Actually one thing I can attest too is timing, timing is everything in life. You may be just a moment away from closing a business deal, but if you missed your train/subway then the whole deal is blown. Keeping track of time is key and well you might as well look good while keeping that time! ... [ read more ]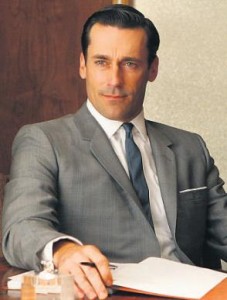 Mad men, which is set in the 1960's around the men (and women) of Madison Avenue who develop the art of spin and really what advertising is today. Is set to return for another season starting Sunday on AMC (check your local cable/satellite listings).  I love this show, first its total guy/dude/dad sprinkle in the women (who were still fighting for equal rights at the time this is set is clearly being shown). Beyond that its just awesome how much cooler things look then compared to now… yes I'm a total retro junkie but you know what everything was made better back then (heck even iphones were made better a year or two ago – lol [I'm an apple lover just needed to put it out there])… But really the cars built there are still running today, the furniture built then was solid like toss two toddlers on the desk and let them jump and not a dent – today you'd have two kids on the floor crying with splintered polyboard wood chips around them. ... [ read more ]
Who's the bigger baby?!