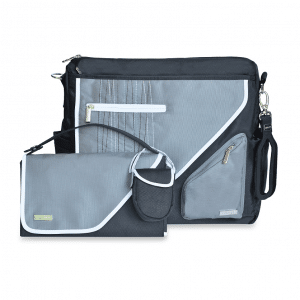 Sometimes it seems that all of the quality baby brands make and market their products to moms. In the diaper bag department, the options from Petunia Picklebottom, JJ Cole and Vera Bradley seem to be flowers, pastels, and then more flowers. Where are the options for new parents that want to share a diaper bag (and the changing duties that go along with '
em
) between both mom 
and 
dad?
JJ Cole Collections is working on solving that problem with the introduction of their new
Metra
Diaper Bag. When I recently received a sample* from JJ Cole to review, at first I thought I had received a messenger bag by mistake. The subdued "black stitch" option is just a simple black and gray color. Dude, that's totally fine with me. When I opened the bag up and saw all the zippers, pockets and
changing pad
, then it became clear that the Metra actually 
is
 made to haul around diaper supplies. Oh, and as a bonus my wife seems to like the bag too… so it won't be just me dealing with junior's messes all the time. After using the
Metra
Bag for a few weeks (I just throw the supplies in, sling it over my shoulder and head out the door) I'm starting to become a believer that dads 
do 
"do" diaper bags too.
You can buy the JJ Cole Black Stitch Metra in-store at Babies R Us and buy buy BABY, and on 
buybuyBABY.com
. Other colors of the Metra Bag – red, blue, and green – are available in store and online at 
Babies R Us
 and 
buy buy BABY
. It's $69.99
…
which is a fair price to me, especially since I can keep on using it for years after junior has outgrown diapers.
* Note – it was a free sample, but I received no other compensation from JJ Cole. All the opinions in this post are my own.