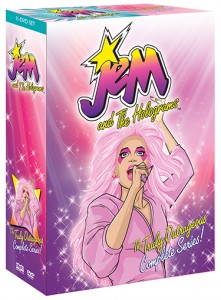 Growing up my kid sister loved this show – so like many things I suffered though watching it (instead of Thundercats or Transformers)… But none the less any child of the last 70's and 80's will know this show all too well!
I'm sure I watched a lot of Jem and the Holograms on TV when I was a child. I loved her pink hair as I think I tried to paint my sister's hair once or twice – just trying to torment her!
Dont remember the show? here is a clip from Jem and the Holograms the Truly Outrageous Complete Series. This is a blast from the past to the point of where it all begins!
"Jerrica Meets Synergy"
On October 11, 2011, Shout! Factory, in collaboration with Hasbro Inc., released the long-awaited JEM and The Holograms: The Truly Outrageous Complete Series! 11-DVD box set, sparkling with all the episodes in the order they were intended and an exclusive extra DVD packed with bonus features, including archival material rarely seen by fans! Poised to present a hard-to-refuse offer for loyal fans, this uncompromising 11-DVD box set is collected in a specially designed box and will be made available in stores nationwide. Also available to own on the same day is the single season DVD debut of JEM and The Holograms: Season One in a 4-DVD box set.
The series "JEM and The Holograms" ran from 1985-'88 in first-run syndication and still boasts a loyal and vocal fan base. It is frequently credited with influencing fashion in the late 1980s and beyond, and launching the careers of female pop-rock stars and music groups. The series follows Jerrica Benton, whose discovery of Synergy, a powerful computer companion, allows her to transform from co-owner of Starlight Music into rock star Jem. Teaming with her sister and best friends who form The Holograms, Jem sets out to make their musical dreams come true, even as she battles against the ruthless Eric Raymond and his musical protégés.
I've got one more clip  "Talent Search"
How to win it… Contest ends 11:59pm EST. October 28th, 2011.
2 lucky winners will pickup a copy of season 1… Tell us what memories you have about the show and please include some method for us to contact you in the comment (twitter or email).
You get 1 extra entry for tweeting about this contest (you can do this daily). Must contain the following information:  #JemAndTheHolograms @dadarocks http://dad.tc/v3xo39 — and you must also leave comment on this blog with the link to your tweet.
Example: I want to win season 1 of #JemAndTheHolograms thanks to @dadarocks – http://dad.tc/v3xo39
You get 1 extra entry for following us on twitter –
twitter.com/dadarocks
You get 1 extra entry for becoming a FAN on Facebook –
facebook.com/DaDaRocks
you must comment that you're a fan
You get 1 extra entry for recommending a friend to become a Fan on Facebook – facebook.com/DaDaRocks they must comment that you sent them and you must comment here for the entry
You will have 24 hours to reply before we pick another winner!
Disclaimer: Thanks to hit entertainment for this prize. Please note this is limited to the USA.