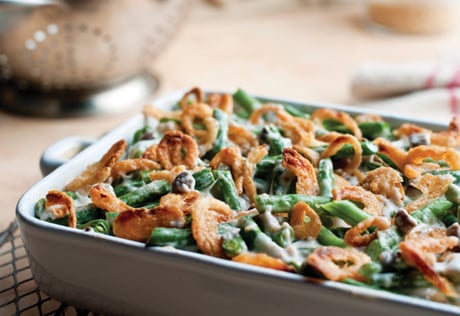 Tis the night before Thanksgiving and everyone is asleep but you just noticed your heading to a family/friends place for Thanksgiving and bringing flowers or wine isnt enough… so I'm here to help you (well really Campbell's soup is helping me help you but no matter) The Wisest Kid is here to help.
You can get Campbell's soup pretty much anywhere — food markets (they might be crazy with last minute shoppers), drug stores (I love these places for quick supplies that you'll need) and gas stations (only if your really lazy or desperate). Pretty much you can get all the supplies at the drug store (like CVS or Duane Reade) other then the green beans those you really might need to run into the market for…
I've got you covered with a dish that takes only 40 minutes to make… SWEET!
Green Bean Casserole
What You'll Need
2 cans (10 3/4 ounces each) Campbell's Condensed Cream of Mushroom Soup (Regular, 98% Fat Free or Healthy Request)
1 cup milk
2 teaspoons soy sauce
1/4 teaspoon ground black pepper
8 cups cooked cut green beans
2 2/3 cups French's French Fried Onions
How to Make It
1   –   Stir the soup, milk, soy sauce, black pepper, beans and 1 1/3 cups onions in a 3-quart casserole.
2   –   Bake at 350°F. for 25 minutes or until the bean mixture is hot and bubbling.  Stir the bean mixture.  Sprinkle with the remaining onions.
3   –   Bake for 5 minutes or until the onions are golden brown
OK pretty sweet right? You can get plenty more idea overs at the Wisest Kid in the Whole World or connect with him directly, visit him on Facebook, @TheWisestKid #AskWisestKid and on www.WisestKid.com.