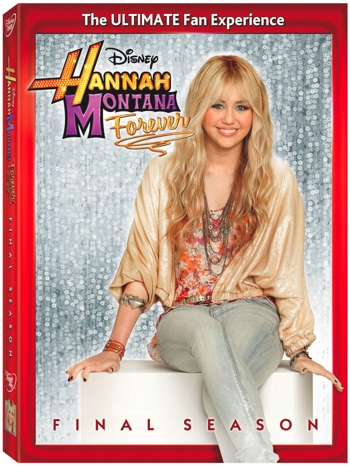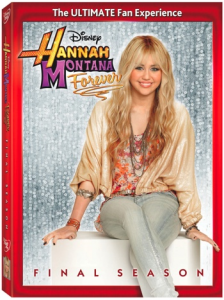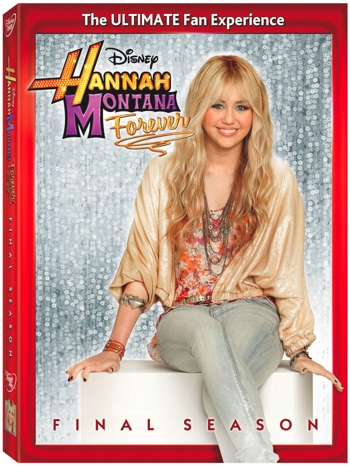 The final season of Disney Channel's trailblazing comedy series,
"Hannah Montana" arrives on a 2-Disc DVD Set March 8, 2011 [Amazon], from Walt Disney Studios Home Entertainment.  Specially packaged to include all 13 final season episodes, this exciting release also contains an exclusive alternate ending to the series finale; a series retrospective; cast goodbyes and an all-new collectible memory book; a Hannah Montana photograph with signature and much, much more – it's the perfect tribute to the end of an era!
Giving fans of all ages the chance to complete their DVD series collection, HANNAH MONTANA FOREVER: FINAL SEASON beautifully concludes the laughter and fun of Miley Stewart's (Miley Cyrus) high school adventures while also unveiling her big superstar secret.
For those who have followed Hannah Montana for four-plus amazing years and are ready to see how it all ends, Miley Stewart has found herself at crossroads during her senior year.  After all these years, does she still have the best of both worlds?  Can she continue her alter ego, Hannah Montana, or will she leave it all behind to be an ordinary girl?  This exciting release invites viewers to come join Miley, Lilly, Oliver, Robby Ray, Jackson, Rico and special guest stars Sheryl Crow, Cody Linley, Dolly Parton and more as they bring the groundbreaking and beloved series to a close. Debuting March 8, 2011, the collectible HANNAH MONTANA FOREVER: FINAL SEASON 2-Disc DVD Set will retail for the suggested price of $29.99 in the U.S. and $35.99 in Canada.
DVD Packaging & Bonus Features:
HANNAH MONTANA FOREVER: FINAL SEASON is packaged as a 2-Disc DVD set which includes all
13 episodes from the final season, three all-new bonus features (An Alternate Ending to the Series Finale,
From Auditions to Wrap: The Cast Looks Back & Cast Goodbyes) and a 28-page commemorative Hannah
Montana memory book that includes show history/trivia, a Hannah Montana photograph with signature and
more.
Disc Specifications:
Feature Run Time:  Approximately 341 minutes
Rated:   G
Technical:  1:78:1 – 16×9
If you love it or hate it Hannah Montana has changed the culture of being a tween girl in america. And if you hate to admit it you know its funny in that way that can only make a tween laugh.
How to win it… Contest ends 11:59pm EST. March 14th, 2011.
2 Lucky people will win Hannah Montana DVD! Tell us your favorite character on Hannah Montana and please include some method for us to contact you in the comment (twitter or email).
You get 1 extra entry for tweeting about this contest (you can do this daily). Must contain the following information: #HannahMontana @dadarocks – http://dad.tc/fUty9V and you must also comment with the link to your twitter message.
Example: I want to win the #HannahMontana Final Season DVD from @dadarocks – http://dad.tc/fUty9V
You get 1 extra entry for following us on twitter – twitter.com/dadarocks
You get 1 extra entry for becoming a FAN on facebook –facebook.com/DaDaRocks you must comment that you're a fan
You will have 24 hours to reply before we pick another winner!
Disclaimer:  Walt Disney Studios Home Entertainment provided the DVD for this raffle