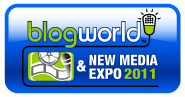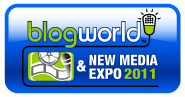 Last year I flew out to vegas for one of the best social media conferences I've attended – it wasnt strickly focused on twitter but it was blogging, new media, twitter, and every other online topic you can think of… After leaving vegas I was left with the feeling of that being a one time conference – due to distance and cost of travel.   A few weeks later I heard rumors of them making moves towards a NYC blogworld… and so it became Blogworld New Media Expo NYC.
I cant wait… The line up this year of speakers is a whos whos of the social media world.  It might be hard to top last year's keynote speaker Mr. Scott Stratten – UnMarketing gave a presentantion that just rocked!  So its finally here….  BlogWorld & New Media Expo is right around the corner, May 24-26, taking place at the Javits Center in New York City. This is the world's largest blogging and social media conference, and it's known worldwide for presenting internet luminaries and entrepreneurs, the most popular and knowledgeable bloggers, podcasters and social media marketing thought leaders. This year's event will feature great educational content, so new media content creators and businesses of all kinds will learn the best tips, technologies and methods for growing their brands, audiences and businesses online.
In addition to learning new ways to hone and promote content and brands online, this is THE place to network, look for business opportunities, collaborators, and of course find important resources in the New Media Expo—like new media news and entertainment networks and social communities!
Here's some overview info about the Conference:
http://www.blogworldexpo.com/2011-nyc/conference/conference-information/
Why Attend?…Check this out:
http://www.blogworldexpo.com/2011-nyc/attendees/why-attend/
The Interactive Conference schedule already has more than 40 sessions listed, and that's less than half of what will be confirmed and shared in the next two weeks!
http://blogworld-nyc2011.sched.org/
By the way, since some of you are new to the event and haven't attended previously, the BlogWorld folks would like to say "Thanks for joining us!" by extending a discount to friends of DaDa Rocks. They've provided a discount code for 20% OFF any pass. And…if you have friends, staff or colleagues who would like to attend, you can share it so they can join you and you can all save money on your registrations. And who doesn't like to save money?
The Discount Code is: DADA20
Register online at http://www.blogworldexpo.com
That Discount Code is good for 20% Off any pass all the way up through the event.
Maybe you just want to hit up just the expo thats ok, I've got you covered for a 50% discount
The Discount Code is: DADA50
EXHIBITS ONLY PASS Includes:
Access to exhibit hall on Wednesday & Thursday
Access to Keynote Sessions on Wednesday & Thursday
Access to Tuesday Networking Reception on Exhibit Floor
http://www.blogworldexpo.com/2011-nyc/registration-travel/register-to-attend-2/
MORE GOOD STUFF!…New this year for BlogWorld, the New York event is co-located with the BEA – (Book Expo America) show and together they offer hundreds of exhibitors to visit and network with, all FREE with your conference pass. And…any BlogWorld conference pass holder gets access to the BEA Big Ideas conference too! Pretty great value!