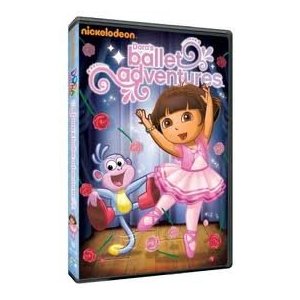 Dora is getting ready for her big dance show in Dora the Explorer: Dora's Ballet Adventures, a compilation containing four of Dora's dancing episodes.  Help Dora as she moves and grooves to her way to Dance School to find herballet slippers before her recital begins.  Later, Dora and Boots lead a musical parade, have a fun-filled fiesta and celebrate Boots' birthday!  Created by Nickelodeon Home Entertainment and distributed by Paramount Home Entertainment, Dora the Explorer: Dora'sBallet Adventures will be released on DVD exclusively at Target on Tuesday, February 20, 2011 for the suggested retail price of $16.99 but Target also offers it online.
Dora the Explorer: Dora's Ballet Adventures Episode Synopses:
Dora's Ballet Adventure
Dora's dance class is getting ready for a special dance recital and her whole family's there to watch her perform.  They just need to wait for the Delivery Duck to deliver their ballet slippers.  But the Delivery Duck brings scuba flippers instead of ballet slippers! Dora and Boots must get the slippers before the recital begins.
Dora, La Músico
C'mon and join the musical parade!  Dora and Boots are leading a parranda over the Piano Bridge and through the Singing Gate to free the instruments that were locked up by the evil Señor Shhh!
The Super Silly Fiesta
Dora and Boots are invited to the Big Red Chicken's Super Silly Fiesta where there will be silly snacks, silly games, silly hats and even silly dancing.  But, the Big Red Chicken lost his party cake!  Dora and Boots set off to save the fiesta.  After searching forever, they find the cake in the silliest place Big Red Chicken could have left it – on his head!
Surprise
It's Boots' birthday!  Dora tells him that all of his friends are waiting at her house to give Boots a big party.  To reach Dora's house, they'll have to climb a long flight of Stairs and cross the Troll Bridge.
How to win it… Contest ends 11:59pm EST. February 28th, 2011.
2 Lucky people will win Dora's Ballet Adventures DVD! Tell us your favorite character on Dora and please include some method for us to contact you in the comment (twitter or email).
You get 1 extra entry for tweeting about this contest (you can do this daily). Must contain the following information: @NickelodeonDVD @dadarocks – http://dad.tc/fplMsz and you must also comment with the link to your twitter message.
Example: I want to win the #Dora Ballet DVD from @dadarocks & @NickelodeonDVD – http://dad.tc/fplMsz
You get 1 extra entry for following us on twitter – twitter.com/dadarocks
You get 1 extra entry for following @NickelodeonrDVD on twitter –twitter.com/NickelodeonDVD
You get 1 extra entry for becoming a FAN on facebook –facebook.com/DaDaRocks you must comment that you're a fan
You will have 24 hours to reply before we pick another winner!
Disclaimer: NickelodeonDVD provided the DVD for this raffle