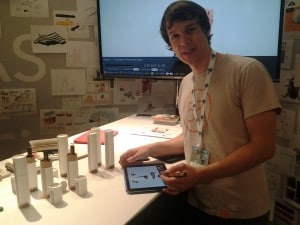 Aside from what we saw via Techlicious, there was plenty of exciting technology to get a look at during this year's CE Week. Here are our highlights from the show:
Paper and Pencil by FiftyThree
App developer FiftyThree kicks off our list of CE Week hits with their app and stylus combo "Paper" and "Pencil." The simply-titled inventions work together to give artists, designers, and the like a unique way to work with and create digital art. Pencil in particular (which connects with its precursor and companion Paper through Bluetooth integration) is an easy-to-use, pressure-sensitive stylus that greatly improves the Paper experience. Paper alone won a slew of awards in 2012 (the year it debuted), including Apple's iPad app of the Year award, and with Pencil by its side it is certainly unlike anything else currently available for tablets.
Otter
Up next is another must-have for tablet users (as well as anyone with a smartphone or iPod they want to keep safe!) Otter's cases are easily ranked among the best for protection and style, and it's not hard to see why. Dating back to 1998, Otter has provided electronics support for more than fifteen years, and is the #1 selling case for smartphones in the US and Canada. With durable waterproof cases available for any and every smartphone and mobile device you can think of, including Apple, LG, Samsung, Nokia, Motorola, HTC, Amazon, and Blackberry, if you've got it, Otter's got you covered.
Jamstik
Our final CE Week highlight is a product that's not even available yet, though its IndieGoGo campaign closed up just over a week ago on July 9. The Jamstik, an app and physical fretboard attachment, allows you to turn your iPad into a guitar on the go. It's perfect for travel, as its compact size means you won't be bumping into your seatmates as you record midi audio on a plane, train, or car trip. It's also great for beginners, because it uses light to sense your hand positions and help you learn the right way to play guitar. Using real strings and real frets, the Jamstik is an innovative and fresh way to make music mobile.
We hope you've enjoyed our glimpse at this year's CE Week– be sure to come back for CE Week 2015, and check out DadaRocks.com year round for electronics and tech info!