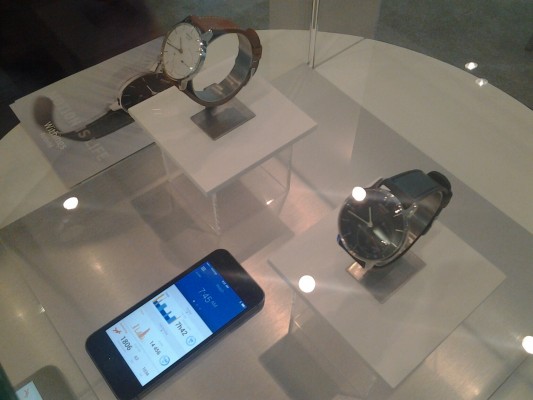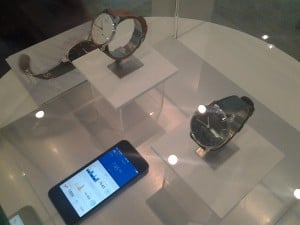 Courtesy of electronics site Techlicious, we recently got a look at some of the great offerings at New York City's CE Week 2014. The week brings together some of the hottest names in electronics today to display and demonstrate some of their latest products. Including companies like Sony, Sharp, LG, Phillips, TiVO, and more, this year's CE Week was loaded with things to see and do. Thankfully, Techlicious set up a tour for us that showcased some of the most exciting products from the show. Check out our highlights from that tour below:
Activité by Withings
Often, when you hear "sports watch" or "fitness tracker," you think of some neon-colored piece of junk that you'd never wear outside of the gym or your daily run (I do, at least!) But a team of Parisian designers and Swedish watchmakers from Withings has changed all that with Activité, the first watch and activity tracker that actually presents itself as a designer watch. The waterproof watch details all of your daily activities, and helps you to optimize your fitness by helping you to develop a plan, toning your sleep schedule, and keeping you on target to meet those daily goals.
Lyric Thermostat by Honeywell
We also got a look at home innovation company Honeywell's latest thermostat, Lyric. The wi-fi interactive thermostat connects with your smartphone to keep track of when you're home, when you're not, and what temperatures to keep your house to correspond with that. Adjustable via your smartphone or internet-enabled device (with programmable buttons on the app interface to allow quick and easy temperature changes), Lyric ushers in a new generation of housewares that integrate the electronics we so often have right in the palm of our hands.
Thinium
The winner of 4 prestigious 2014 International CES Best of Innovations Design and Honoree Awards in multiple categories, a 2014 CES "Best of Show" Award from Popular Mechanics, and an iLounge 2014 Best of Show Award: iPad, iPhone, iPod + Mac category, Thinium is making a big splash in the electronics community this year. But just what is the company bringing to the table? Thinium has manufactured an end to charging cords, replacing the clunky cables with a sleek and slim transforming wall mount that allows devices to be plugged directly into the wall– no wires required. With two different models available for pre-order and a third on the way, Thinium is certainly one to keep an eye on in the near future!