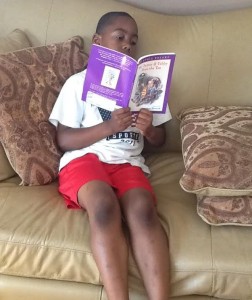 Be a reader yourself: Allow your child to see you reading for pleasure as well as for information. Put together a Summer Reading List for yourself as well as for your child. Then be sure to demonstrate how relaxing it can be to enjoy a good book by the pool or beach after swimming.
Get relevant books into your kids' hands: If your family is going on vacation to a different region of the country, pick up a children's book about that destination. It can be short or long, fiction or non-fiction. Ask your local children's librarian for recommendations. For example, say you're going to the Chesapeake Bay area for a few days. Pick up a copy of Misty of Chincoteague, a beautifully written novel that is based on the true story of the wild ponies from that region.
Read aloud: Don't be afraid to try reading your favorite children's chapter book to your younger child. While storybooks form the foundation of a young child's library, longer books without pictures encourage children to use their imaginations to paint pictures in their minds. These types of books can also be a good way to pass the time on road trips without always having to resort to video games.
Download the Hooked On Phonics Learn to Read app (for iOS or Android or Kindle): When appropriate, let technology work for you. The Hooked On Phonics app is loaded with music, games, activities and open-ended play that keeps your child engaged, but it's also correlated to National Common Core Standards. So you can rest easy knowing that your child is practicing critical reading skills that he or she will need to know to be a successful reader.
Join a book club: One convenient and inexpensive way to feed your child's need for books is to join a book club (like one from Early Moments) that is geared to your child's age and interest.
Visit the library: Not only is the library a perfect place to get suggestions and books for your Summer Reading List, but most public libraries have summer book club discussion groups for kids, book-based crafts, and meet the author events that are both fun and free.
Nationally, 37% of children arrive into kindergarten without the necessary skills to start the learning process of reading and writing.  This is why Hooked On Phonics is the number one at-home educational tool for 3- to 6-year-olds. Now, with the mobile apps via iOS and Android, the company is hoping to triple the number of kids who have learned how to read with Hooked On Phonics.
Hooked On Phonics mobile app development team is always working on the latest technology to assist students, parents and teachers with reading, phonics and education.  To learn more about the company and to see the latest products, please visit www.hookedonphonics.com .