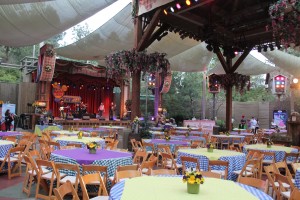 As part of the Disney Social Media Moms Celebration, we were treated to a wonderful dinner at Disneyland's Big Thunder Ranch on the first night of the conference. The dinner, focused on on "The Magic of Healthy Living," emphasized the importance of eating well and staying in shape. Particularly featured were Disney's  line of flavored apple slices (apples infused with flavors like grape, blue raspberry, and vanilla), as well as their "Snackers" and "Foodles," which are snack packages containing healthy treats like grapes and cheese, apple slices, pretzels, and yogurt.
We got to sample some of the flavored apples and the snack packs, and they were pretty great. I especially enjoyed the grape-infused apples, and the Avengers-themed pretzel, cheese, and apple "Snackers" were a big hit!
Overall, Disney's got some great snack options for kids and "grown-ups" alike, and to someone as health-conscious as I am, that means a lot. I definitely see us picking up some of Disney's "Snackers," "Foodles," and flavored apples in the future.
Check out Disney's "Foodles," "Snackers," and apple slices at a grocery store near you, and in the gallery below!
This slideshow requires JavaScript.