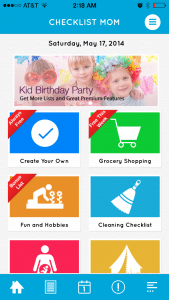 Checklist Mom has been keeping busy moms and their families organized, productive and happy since 2008. Our apps have been featured on the Katie Couric Show, Parents.com, USA Today, Travel Channel, Babble.com, Budget Travel and more. We've helped thousands of moms get organized and we can help you take back control of your life too!
The ALL NEW Checklist Mom app takes organization to the next level. With advanced features like custom & ready-made to-do lists, family calendar and alert notifications designed specifically for moms, your families will be better organized and more productive than ever.
Remove the clutter in your life and make way for the things YOU want to accomplish with features like:
• Calendar to schedule all family events
• Email your lists to share your to dos to family members and others
• Organize your to-dos, manage and sync to your calendar so that you have peace of mind
• Access your to-do list anytime and anywhere from your IOS mobile devices
• Navigate your list more intuitively through use of your personal photos & images
• Get BONUS checklists and try a new FREE checklist template each week
• Get premium access to a complete set of comprehensive pre-populated ready-made checklist templates to get your projects and events started right away
• Create as many custom checklists as you like!
Download Link: https://itunes.apple.com/us/app/checklist-mom-family-calendar/id821441862?mt=8
Website: http://thechecklistmom.com/