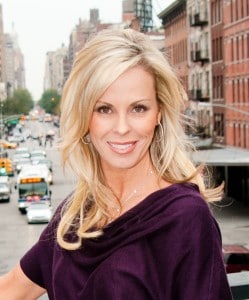 Having baby #2 put safety back on our radar. We had the Manhattan apartment professionally childproofed by my friend, Child Safety Expert Kimberlee Mitchell, and her team for baby #1 but we've since moved and need a refresher; a babyproofing bump if you will. This time around I wanted to tap into the knowledge and tips gleaned from baby #1 and DIY childproof my own home to save some cash.  So I called up my safety savvy pal and got some answers to my childproofing questions:
Q1) Adam: I have a stairwell with banister on one side and wall on the other at the top of the stairs. No gates at the store are wide enough and it looks like it'll need to be installed at an angle.  There are many options online but I don't know which one will work in my house. Don't wanna pay a fortune in shipping if I get the wrong one…What should I do?
A1) Kimberlee: Many parents face similar childproofing conundrums that can seem impossible to solve without some inside info AND the use of professional products. My "trade secret" is using Cardinal Gates. The combination use of their custom mount kits, safety gates and gate extensions will solve 98% of your gate issues.  You do need to be somewhat handy to install, however, or know someone who is. Their gate mounting kits contain mounting wood, a spacer, screws, wall anchors and instructions to secure gates to walls, posts, balusters, and wrought iron railings. Purchase one mounting kit per side. Wrought iron railings require two kits per side. Gates can be wide as needed with use of extensions and "Tbars," which offer more stability for extra wide openings or gates that require a 90-degree angle (like an L shape) to cover custom openings. Installation can be a little complex for the layperson but Cardinal also provides directions.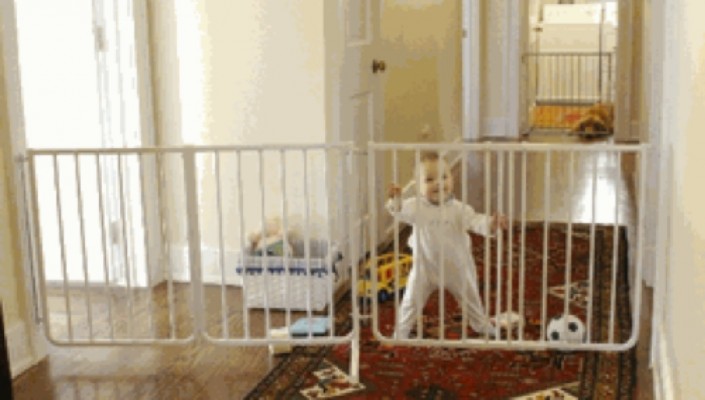 GATE SAFETY TIPS
Never install a pressure gate at stair top.
Install gate per manufacturer's instructions. Don't take short cuts and disregard installation tips.
Do not climb over

gate

.  Baby will watch, learn and try to emulate.
Don't place furniture near gates that children use to aid in climbing over

gate

.
Gates are for babies. Adults climbing over can break, bend or pull gate from

wall

.
Teach children not to play with or climb on gates.
Do not allow baby or child to see you engage and disengage gate. They are fast learners.
Always use JPMA approved gates.
Q2) Adam: My oldest, age 4, can now open latched drawers that I do not want him getting into. What's a better option to keep him out?
A2) Kimberlee: While safety latches are the easiest and perhaps most common way to keep little fingers out of the drawers and cabinets, they are not 100% failsafe. An installed latch allows the cabinet or drawer to open a couple inches or less so you can reach your finger in to push down on the latch disengaging it from the inside. Make the mistake of giving a toddler enough time alone with a latched cabinet or drawer and they will figure it out. Magnetic locks, however, do not allow cabinet or drawer to open at all when locked. The lock mechanism is disengaged with a magnet, which must be waved in a specific direction on cabinet face surface to unlock. Three times the price, magnetic locks are also a little more challenging to install but recent innovations have made the DIY a snap for the layperson and you can pick them up at Home Depot or Lowes.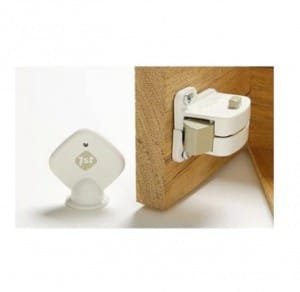 LATCHING TIPS
Never leave household cleaning products in low cabinets or drawers.
Unlatched cabinets or drawers can provide a climbing ladder for child to get to higher.
When latching drawers

be

sure there is enough room for dad to get his hand into cabinet to engage

latch

but not enough to allow baby to access drawer contents.
When drilling into

cabinet

or drawer face always

measure screws

to make sure they are short enough to prevent unsightly holes from drilling through.
Bull nose counter tops disallow enough room to latch most top drawers. Pros use extenders to make this work.
Teach children not to play with latched cabinets or drawers.
Sometimes it takes 2-3 different latches to childproof the whole kitchen.
Q3) I have some second story windows I need to childproof but don't want to install the huge window guards on all of them. What's are my options?
Window guards THE safest choice for childproofing a window, especially if you choose to open the windows. Choosing the correct guard for your window can be challenging so I suggest using the handy guard "calculator" offered by Guardian Angel on their website.  You click on the window type that looks like yours and then input the measurements. The results tell you which window guard you need and how many — very simple and effective.  Window guards allow you the luxury of opening the window to allow fresh air in but still have a safe environment for kids.
*Some sliding windows can be secured with a simple cost effective $4 solution, called a "no mar sliding window lock." It clamps onto siding window track and when strongly tightened it disallows window to slide further than where clamp is placed. It's easy to use and permits you to leave your windows safely cracked open a couple inches. I always suggest using two next to each other in the event one fails you have a second line of defense or try the double lock.  To make sure it's installed correctly and working effectively, try forcing it to move to make sure.  Ideally, you will install these locks when your child is not home and watching. You don't want to call unnecessary attention to the locks you've installed.
*Professional childproofers in your area can help you assess the safest choices for childproofing your specific windows. There is no one solution for all windows as every window is different.
Window falls can happen in the blink of an eye. Always supervise children near open windows.
Install window guards that can easily be removed by adults and older children in the event of an emergency.
There should be no openings in the window exceeding four inches.
Don't place furniture near windows that children may climb.
Window screens are not strong enough to prevent falls.
Teach children not to play with, climb, or open windows.
Choose cordless window coverings to prevent strangulation risk.
Q4) Adam: I work from home and need to keep an eye on my sleeping daughter in her crib in the nursery AND on my son in the play room at the same time. I'm just feet away but would like to supervise and listen but not have 2 baby monitors.
Q4) Kimberlee: We can spend hundreds of dollars on childproofing but what it really comes down to is supervision. Childproofing is merely a slow down tactic to keep our little ones away from danger until we come to the rescue and remove them from the potential harm. Conversely, give a child enough time to inspect on a childproofing device like a latched cabinet, a gate, a window lock and they will figure it out eventually; keep in mind twins or close in age siblings will get through childproofing quicker when two minds collaborate! I always say, "lengthen the life of your childproofing" by not allowing your child to touch or play with childproofing devices you've installed.  That said, making sure you keep an eye on your children so you can correct them as needed, is the key.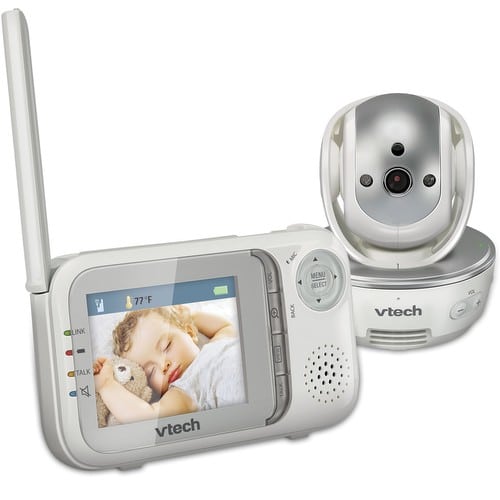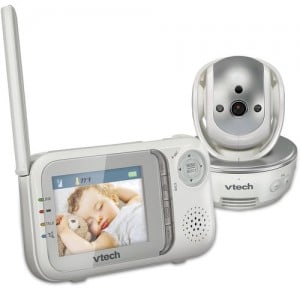 VTech's Safe & Sound Pan & Tilt Full Color Video Monitor allows you to pan, tilt and zoom the monitor from the parent unit so you can watch your child move about the room while listening. When he begins to fidget with the childproofing gadgets, chime in with a prompt loving correction, "That's not for kids. No touching the childproofing please," using the monitor's "talk back" feature. It's a 2-way intercom so you can actually have a conversation like an intercom system. You can also mount up to 4 cameras so you can keep an eye out in several rooms with kids of varying ages. It also helps with "audio supervision" so you can step in when a young convo goes awry or becomes age inappropriate between peers. For work from home parents this monitor serves as an additional set(s) of eyes allowing for safe multitasking while watching kids. NOTE: This is not a suggestion to leave an infant or toddler alone in a room to play outside of the crib unsupervised.
MONITOR SAFETY TIPS
Install baby monitor 3 feet away from

crib

.
Never place/attach

baby monitor

in/on

crib

with baby.
Make sure baby monitor power cord is 3 feet away from

crib

.
Conceal baby monitor power cord using wind up feature or install cord cover.
Never use

bay monitor

in

bathroom

or near water.
Plug baby monitor into

childproofed

electrical socket.
Q5) Adam: My oldest answered the front door the other day when I was, shall I say, in dispose and not able to beat him to it.  He can reach and unlock the knob handle and deadbolt now.  How can I keep him from opening the front door?
Q5) Kimberlee: This is one of the most common questions I get and thankfully it's one of the easiest safety tips I have.  A power drill and an under $3 item from Home Depot or Lowes can save the day! The "Flip Lock" is a great device that can be used on most perimeter doors, which are doors that lead to the outside of the house. This reversible door lock can be used on right or left-handed swing-in doors. These doors must open into the home for the flip lock to work. It easily installs to your doorjamb with two screws; no mortising required. It includes an anti-lockout screw making it child safe. People in apartments with metal doorjambs use chain locks, which are also effective, and serve the same purpose.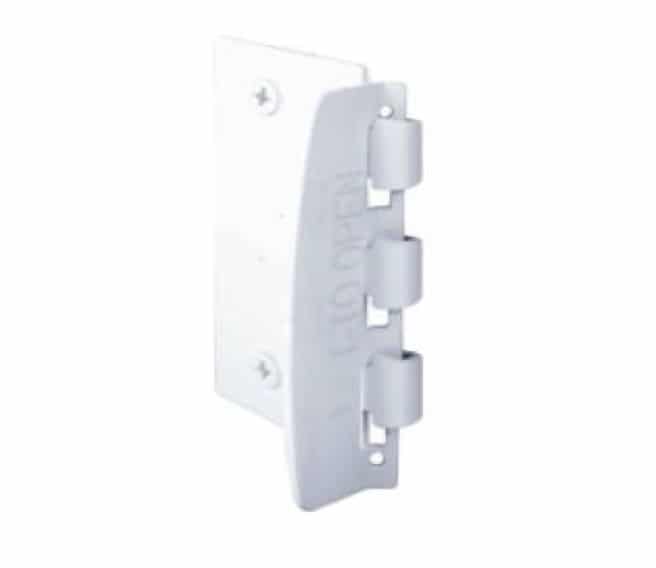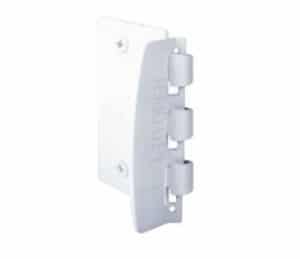 DOOR SAFETY TIPS
Flip

locks install

inside the wooden doorjamb.
Install flip lock high enough to be out of child's reach.
Install flip locks on all perimeter doors.
They come in various finishes that match your home locks hardware.
If

doorjamb

is

metal do

not install the flip lock.

Lock

will also prevent door from locking you out if engaged when

door

is open.
Always lock interior access to garage as this is an off limits room

to

children.
Teach children to always come get you when someone is at the door.
Ideally, I would take Kimberlee's advice and recommend childproofing before your babies are are crawling (and even during pregnancy when time is plenty) so the safety devices you install are already part of baby's environment. For people like me who just moved, the best-case scenario would be to install all the childproofing devices before move in. That way it's not like something is new in their environment from one day to the next. Be sure to remind them that they cannot touch or play with the safety devices. Remember you can get the most "bang for your buck and lengthen the life of your childproofing" by turning you back so they can't see how to navigate the locks.  Best advice after my childproofing experience? If you are a DIY guy and you too encounter safety conundrums in your home that make childproofing difficult, don't turn your back on safety and put it off. Contact a pro to find out a safe and long lasting solution because the peace-of-mind it priceless!  Thanks Kimberlee Mitchell!
*Disclosures: Kimberlee only mention products she believes to offer effective safety benefits to consumers. Kimberlee is a sponsored ambassador by VTech.