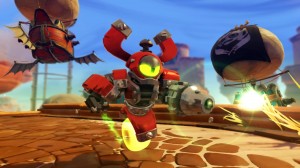 Those that love Skylanders will rejoyce to know that the third installment of Skylanders was just announced… Skylanders SWAP Force will be arriving shortly to every major gaming platform.
SWAP Force builds upon the success of the franchise's signature gameplay with an all-new innovative play pattern — swapability — that gives kids more choice than ever before by letting  them swap the top and bottom halves of the toys to create their own characters. The game lets Portal Masters reconfigure 16 SWAP Force characters into more than 250 unique combinations. Kids can mix and match characters' powers and moves, and then bring them to life in the game.   Fans of the franchise also can play Skylanders SWAP Force with their entire collection of characters from both Skylanders Spyro's Adventure and Skylanders Giants, now with the added capability of jumping.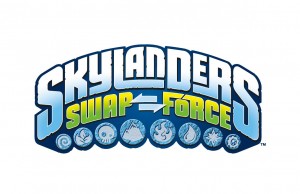 In Skylanders SWAP Force, Portal Masters embark on an all-new adventure in the mysterious Cloudbreak Islands, home to a mystical volcano that erupts every hundred years to replenish the magic in Skylands.  During an epic battle, a brave group of Skylanders were caught in the volcano's eruption, which blasted them apart and sent them to earth.  But, the magic of the volcano gave these heroes a remarkable new power — the ability to swap halves – turning them into a special team known as the SWAP Force.  Meanwhile, Kaos is back with a new evil plan.  And now, Portal Masters everywhere must reassemble the SWAP Force — in their original form or in new combinations — and send them back to Cloudbreak to save Skylands!
Skylanders SWAP Force features 16 new SWAP Force characters, along with 32 core Skylanders characters (16 completely new Skylanders and 16 new versions of fan favorite characters from previous games) and eight new LightCore™ characters. Skylanders SWAP Force also delivers high-resolution graphics that bring the game's detailed characters and rich environments to life, immersing players in the gameplay like never before.
Fact Skylanders SWAP Force's16 New Characters With Swappable Top and Bottom Halves Can Be Customized into More Than 250 Unique Combinations
Stay tuned to @dadarocks on twitter for more breaking news on Skylanders SWAP force from Toy Fair 2013!