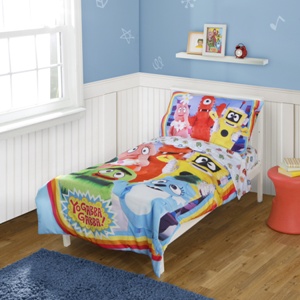 Here's something you and your kids can both be excited about – colorful, fun Yo Gabba Gabba! bedding by Betesh, now available at Walmart stores nationwide.The 4-piece toddler bedding set is affordably priced and machine washable. For more fun, add a Pillow Pal or one of several blankets. There are cuddle pillows, fun activities pillows (which I've never seen before) and much more available, only at Walmart. Whats included? 4-piece bedding set includes comforter, flat sheet, fitted sheet, and pillow case. 60% cotton and 40% polyester blend means its Machine washable.
While the bedding is awesome – I'm really waiting for Season 4 of  YGG to get off the ground – releasing today is a DVD with a new episode from season 4 with Jason Bateman guest starring as a spy in a brand-new season four episode of Yo Gabba Gabba!: "Super Spies," debuting on DVD on April 17, 2012. See it before it airs on TV!  In the Yo Gabba Gabba!: Super Spies DVD, kids and kids at heart are invited to join DJ Lance Rock, the Gabba gang, and special celebrity guest stars on music-filled adventures. The DVD also features a bonus interactive spy game.
Yo Gabba Gabba: Super Spies Episode Synopses
Super Spies
When a bad spy named Bateman makes off with the Gabba Land gang's balloon art, it's time for a musical spy recovery mission, full of gadgets, robot guards, and great beats.  Jason Bateman guest stars and musical guests Peter Bjorn and John perform.
Mystery
Toodee and Plex go searching for Foofa who has disappeared. Toodee finds clues to solve the mystery.  Toodee and Plex find Foofa at the beach and meet her cool brother Foofle. Ladytron performs, Jack McBrayer and Paul Scheer tell a knock-knock joke and Biz Markie is featured in the recurring "Biz's Beat of the Day" segment.
Space
The Gabba gang goes on a space adventure in a flying saucer. They look through a telescope at the stars and planets.  In space they meet new friends and discover a new planet.  Musical guests Electrocute perform and Mark Mothersbaugh is featured in the recurring "Mark's Magic Pictures" segment.
Big
Brobee gets frustrated about being the little one, and he wants to know what it's like to be big like DJ Lance.  He accidentally switches places with DJ Lance and grows big, but Brobee has a hard time being like DJ Lance.  DJ Lance and Brobee switch places again and everything is back to normal in Gabbaland.  Musical guest Jem performs and Mark Mothersbaugh is featured in the recurring "Mark's Magic Pictures" segment.
Yo Gabba Gabba: Super Spy! Fast Facts:
Catalogue: 823034
DVD SRP: $16.99
DVD Running Time: Approximately 96 minutes
How to win it… Contest ends 11:59pm EST. April 22nd, 2012.
You must comment if you have a bedtime ritual that you share with your toddler or a tip to help other parents experience treasured moments at bedtime?  please include some method for us to contact you in the comment (twitter or email).
You get 1 extra entry for following us on twitter – twitter.com/dadarocks
You get 1 extra entry for tweeting about this contest (you can do this daily). Must contain the following information:
#yogabbagabba blank @dadarocks – http://dad.tc/J5U5mt  and you must also comment with the link to your twitter message.
Example: I want to win the #yogabbagabba blanket & Super Spies DVD from  @dadarocks – http://dad.tc/J5U5mt
You get 1 extra entry for becoming a Fan on facebook – facebook.com/dadarocks you must comment that you're a fan
You get 1 extra entry for subscribing to our Feedburner digest mailing (right side subscribe by email) – you must also comment that you've subscribed
You will have 24 hours to reply before we pick another winner! Limited to the USA.
Disclaimer: Yo Gabba Gabba is providing the prize for the raffle.