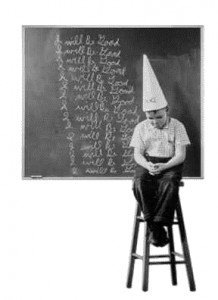 Man do I feel like a dunce, I really never wanted to believe that the second my son was born I needed to apply to programs for when he was two or three years old.  Now here I am (with an amazingly supportive wife – who's now doing the heavy lifting) looking for a three's program for our child.  I always knew it wasnt cheap I thought what $12,000 a year for a full time program — not in this life time how about $16,000 for 5 days a week mornings only.  Oh you want a full day education for your child try upping that number to $20,000.
Remember this is for a three year old. This is like sandart and finger paints (hopefully avoiding eating the paste).  Reading a book 2 a day and really more then anything else is teaching the kids how to interact without getting bloody noses.
I havent a clue were we're going to come up with this money from… but worst is now trying to find a school (if I had hair on top of my hair it'd be falling out in clumps). You'd think there is some easy solution like all kids should get educated not soooo there really isn't anything for kids younger then 5 (and there are people pushing to make the starting age of state schools 6 < ARE YOU KIDDING ME?!) I'm not sure about you but I'm a big believer in changing our education system – I think starting schools at 5 is way to late, if my child had some structured learning now I'm sure he would pick it up and retain the information – is it any wonder why our countries math and verbal skill are being flushed down the toilet. Oh and if you cant tell with my amazing writing skills, I'm totally a product of the public education system.
Well its time to get for an interview — thats right they want to interview us as parents and my son.  Worst part is the rejections letters, did I smell? did they not like our answers? or worst – did they not like my son?
How are you dealing with education for your two or three year old? what was that process like for you? leave a comment – I want to hear from you.