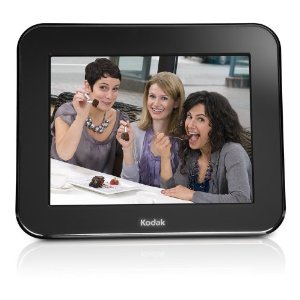 There is a ton of great items about to hit dadarocks over the next week but I'm really excited to talk about this… Kodak over the course of this week is running a great Facebook event where people can upload pictures of their dads or their kids dads (get it perhaps your husband father to your children). Those photos will be shown on the Kodak.com homepage and on Kodak's Times Square Billboard in New York City. Check out this Facebook event page http://kodak.ly/shareDad and just upload a picture. This isn't a contest, there are no prizes, but kodak will be selecting 100 to 200 photos for the kodak.com homepage and then some of those will be on the Kodak billboard in Times Square on Father's Day – which is pretty cool.
Now on to the Pulse frame [Amazon] – its got a great picture, the ability to sync to Facebook (which is pretty pretty cool), yet the coolest part it has get its own email address… Getting photos on the device is easy as just emailing a photo from your iPhone to your Pulse frame.
Quick Specs
7 in. (17.8 cm) high-quality digital photo display
Receive pictures via e-mail, Facebook and Kodak Gallery sites. Quick comment feature for Facebook.
Wi-Fi enabled
512 MB of internal memory
USB port and 2 card slots to add pictures from other sources
Built-in activity sensor turns the frame on when you're nearby and conserves energy when you're not
This is easy to get configured to your wifi using the touch screen interface.  Its a perfect gift for granddad's as you could just simply email the frame a photo from anywhere in the world (as long as the frame is connected to wifi). So Dad if you're reading this forget that last sentence…  Anyways – Kodak is the name we've all grown up with and let me tell you they take pride in giving you that product screens on some digital pictures frames are iffy at best but this frame has great image quality. If you think the 7 inch display might be small –  Kodak has out a 10 inch as well [amazon].
How to win it… Contest ends 11:59pm EST. June 13th, 2011.
Tell us who would use this frame should you win it,  please include some method for us to contact you in the comment (twitter or email).
You get 1 extra entry for tweeting about this contest (you can do this daily). Must contain the following information: @kodak @dadarocks – http://dad.tc/iOeYgJ and you must also comment with the link to your twitter message.
Example: I want to win the @kodak Pulse #digitalpictureframe from @dadarocks  – http://dad.tc/iOeYgJ
You get 1 extra entry for following us on twitter – twitter.com/dadarocks
You get 1 extra entry for following them on twitter – twitter.com/kodak
You get 1 extra entry for becoming a FAN on Facebook – facebook.com/DaDaRocks you must comment that you're a fan
You get 1 extra entry for becoming a FAN on Facebook – facebook.com/kodak you must comment that you're a fan (leave a wall post that DaDaRocks.com Sent you)
You will have 24 hours to reply before we pick another winner!
Disclaimer: Thanks to Kodak for provided the prize for this raffle