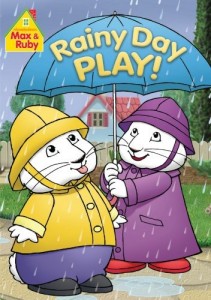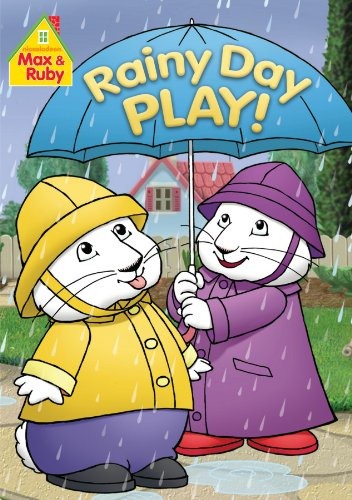 Join Max and Ruby for a rainy day adventure in the all-new DVD, Max & Ruby: Rainy Day Play! [Amazon] Created by Nickelodeon Home Entertainment and distributed by Paramount Home Entertainment, Max & Ruby: Rainy Day Play! was released on April 12, 2011, and sold for the suggested retail price of $16.99.
Nickelodeon's Max & Ruby is a top-rated animated series based on the children's books by Rosemary Wells. Each episode centers on bunny siblings Max, a determined three-year-old and his big sister, Ruby, a smart, goal-oriented seven-year-old.  The show offers an empowering message for children by showing Max and Ruby playing together and resolving their differences in ways that are respectful and supportive.
Max & Ruby: Rainy Day Play! Episode Synopses:
Ruby Writes a Story / Max's Dominos / Grandma's Attic
Ruby Writes a Story
Ruby needs quiet while she tries to write a story, but Max wants to play cowboy.  Fortunately, he helps Ruby come up with the perfect idea for her story.
Max's Dominos
Ruby and Louise want to earn their hospitality badge by hosting a Bunny Scout Meeting.  Meanwhile, Max and Morris are busy exploring the domino effect with a variety of toys culminating in a terrific welcome for Bunny Scouts.
Grandma's Attic
Max & Ruby explore in Grandma's attic.  While Ruby is delighted to try on old clothes, Max finds an old chest that Grandma says nobody ever goes into.  When he finds the key, they both get a surprise.
Bunny Cakes / Bunny Party / Bunny Money
Bunny Cakes
Ruby wants to surprise Grandma with an angel cake with raspberry fluff icing for her birthday.  However, Max wants to make Grandma an earthworm cake with red-hot marshmallow squirters.  After a few mishaps in the kitchen and a few trips to the grocery store, Grandma gets both!
Bunny Party
Ruby is preparing a surprise birthday party for Grandma and she invited all her dollies as guests.  Meanwhile, Max thinks that some of his toy friends should also be at the party.  It's not long before Ruby discovers that there are too many guests and not enough chairs.
Bunny Money
Ruby has saved just enough money to buy Grandma a music box with skating ballerinas on top for her birthday.  She soon finds however that shopping with Max costs more than she planned.
Ruby's Safari / Max's Mud Bath / Max's Lost Lizard
Ruby's Safari
Ruby and Louise have to fill out the last page of their Bunny Scout Scrapbook.  They decide to have a safari in the backyard to get a picture of a special creature.  However, Maxkeeps leading them astray with his animal toys.  In the end, his red rubber elephant attracts a hummingbird and the girls get their photo.
Max's Mud Bath
Ruby and Louise set up there beauty shop again and want to give Max an all-natural treatment with crushed up fruits and veggies.  However, Max thinks the treatment looks quite tasty and would rather play in the mud.
Max's Lost Lizard
Ruby and Louise are making a terrarium for the Bunny Scout chameleon, and Max is very interested in the "lizard!" When the chameleon escapes, Max is the only one who sees through its camouflage.  Thankfully, Max manages to help get it safely back in the girls' finished terrarium.
Ruby's Rainbow / Home Tweet Home / Max's Mudpie
Ruby's Rainbow
Ruby wants to paint a perfect rainbow for Grandma but she can't remember the colors or the order they go in.  When Max says "Backyard," Ruby says he can't go outside because it's raining.  However when she finally follows him outside, she sees there's a rainbow in the backyard.
Home Tweet Home
Ruby and Louise build a birdhouse. Max says "Hungry" so Ruby gets him a peanut butter sandwich, berries and sunflower seeds.  When the birds don't come near the birdhouse,Max uses the treats to attract the birds.
Max's Mudpie
Max keeps trying to make a mudpie but Ruby wants him to stay clean because Grandma is coming over and she's got something very special.  In the end, Max gets himself andRuby mucky.  It turns out that Grandma's surprise is a double chocolate fudge treat she calls "Mudpie!"
What makes this awesome is the simple fact its 98 minutes long – if you just hit play and prey you're child will watch it end to end… you may just may successfully nap.  Having just seen the live show of Max and Ruby I've come away with a new appreciation of how the relationship and dynamic of the older sister and younger brother might be a great tool for families to use on younger kids, this certainly isnt aged for anyone over the age of 5 but once again its still a good buy for the amount of content on this dvd alone.
How to win it… Contest ends 11:59pm EST. June 1st, 2011.
2 Lucky people will win the Max & Ruby DVD! Tell us your favorite character on Max and Ruby is and please include some method for us to contact you in the comment (twitter or email).
You get 1 extra entry for tweeting about this contest (you can do this daily). Must contain the following information: @NickelodeonDVD @dadarocks – http://dad.tc/lAUJr1 and you must also comment with the link to your twitter message.
Example: I want to win the #MaxAndRuby DVD from @dadarocks & @NickelodeonDVD – http://dad.tc/lAUJr1
You get 1 extra entry for following us on twitter – twitter.com/dadarocks
You get 1 extra entry for following @NickelodeonDVD on twitter –twitter.com/NickelodeonDVD
You get 1 extra entry for becoming a FAN on facebook –facebook.com/DaDaRocks you must comment that you're a fan
You will have 24 hours to reply before we pick another winner!
Disclaimer: NickelodeonDVD provided the DVD for this raffle