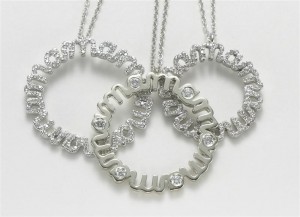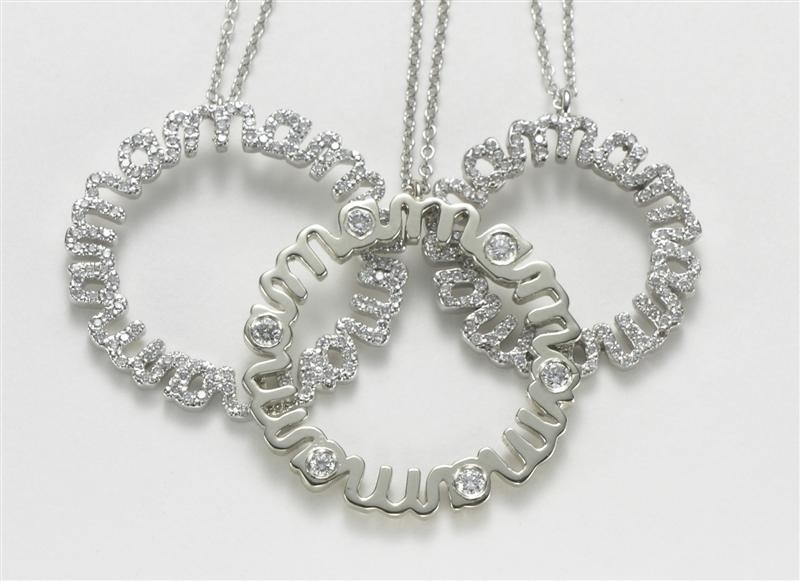 Mother's Day is right around the corner and of course there is only one thing mom loves to get more then flowers and cards its jewelry. Nothing is more classic then something that says mom but usually those look a little cheesy, even the super expensive designer mom charms and necklaces are a little lame.  Then what about the fact that mom might not be mom but mommy or mama.  Thats why I really love Tali's designs one she makes some awesome dada cufflinks (father's day is around the corner) and well usually I hear mama in my house more then mommy (and never hear mom from our child).
Need a little more arm twisting?! Gwyneth Paltrow, Naomi Watts, and Sarah McLachlan have been spotted wearing these necklaces, and we are sure that a mom you know will love them as much as the celebs do!
Plus there is plenty of time to get order and shipped before mother's day.
There are more styles then I can repeat diamonds, gold (white or yellow), silver, a few diamonds or covered in diamonds, there are sizes small or large (can you tell this is where the GUY shopping for jewelry part really kicks in) — so before your heads explode guys – go with the large with a few diamonds in white gold   or  if its more the thought that counts go with the silver.
For more information check out http://www.taligillette.com/ or on facebook or if you like a little more personal touch, email [email protected] or call her directly at 917-576-1205.
I know a bunch of you will want to win one of these beautiful pieces – and well you absolutely can… check out Late Night Parents next monday night as we'll be giving away one to a lucky viewer.  Late Night Parents is live at 11PM EST and you can find out more at http://latenightparents.com