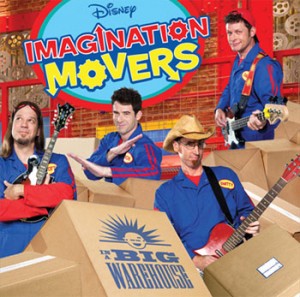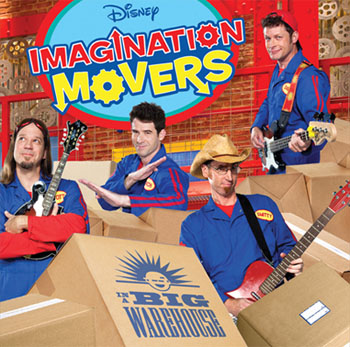 Disney's Emmy Award-winning Imagination Movers are in the middle of their "In a Big Warehouse" concert tour which started February 4, 2011 in their home state of Louisiana. The wildly popular New Orleans-based rock band for kids of all ages will and has traveled coast to coast playing their most popular songs and bringing the magic of the Imagination Movers television series' Idea Warehouse to life performing in a series of 100 shows across the nation. Concertgoers can expect special appearances from Nina, Warehouse Mouse and other characters from the TV series.
"Nothing beats the excitement of playing live rock n roll with the help of thousands of great fans," says Rich Collins (aka Mover Rich). "We encourage our audience to be an essential part of the show by singing, clapping, shouting, dancing and generally letting the energy of a real rock concert lift their spirits. Everybody needs a nap after one of our gigs. Including the grownups – and especially us!"
Since signing to Walt Disney Records, the Imagination Movers have sold more than 100,000 albums, received multiple awards and earned critical praise from the Associated Press, Entertainment Weekly and many other media outlets. Their newest release, In a Big Warehouse, the soundtrack for the second season of the television series, hit the charts this fall, debuting at #2 on Billboard's Top New Artist Albums chart and bowing at #3 on Billboard's Children's Chart.
The tour has been a big hit with fans and if you cant make it to the live show they've event got a special TV version thats currently airing on Disney Junior.  This special episode is also available on iTunes, I found that out by shopping for the new episodes from 2011 that are also on sale now.
May 6th the show rolls in to New York City's Best Buy Theater with 3 days of shows.  They also have some special guests opening the show this stop is Choo Choo Soul. I'm sure kids of all ages will love the show and I for one cant wait to see them live. For more information on tickets and for the tour dates, VIP packages and venues visit www.imaginationmovers.com.
The Imagination Movers are Collins, a former journalist and father of five; Scott Durbin, a teacher and father of two; Dave Poche, an architect and father of two; and Scott "Smitty" Smith, a New Orleans firefighter who was part of the Hurricane Katrina search and rescue effort.
Enter to win 4 tickets to the Friday, 5/6 – 4:30pm show
How to win it… Contest ends 11:59pm EST. April 28th, 2011.
Leave a comment below with who your favorite character on imagination movers is and please include some method for us to contact you in the comment (twitter or email).
You get 1 extra entry for following @dadarocks on twitter –www.twitter.com/dadarocks You must comment that you're a follower.
You get 1 extra entry for following @imovers on twitter – www.twitter.com/imovers You must comment that you're a follower.
You get 1 extra entry for tweeting about this contest (you can do this daily). Must contain the following information: @imovers @dadarocks – http://dad.tc/ihjWaK  and you must also comment with the link to your tweet.
Example: I want to win tickets to see the #imaginationmovers live in #NYC thanks to @imovers & @dadarocks – http://dad.tc/ihjWaK
You get 1 extra entry for becoming our FAN on facebook – www.facebook.com/dadarocks You must comment that you're a fan.
You get 1 extra entry for becoming their FAN on facebook –www.facebook.com/imaginationmovers (and leave a note saying that www.dadarocks.com sent you) You must comment that you're a fan.
You will have 24 hours to reply before we pick another winner!
Disclaimer: Thanks to the Imagination Movers for providing the tickets for this giveaway.