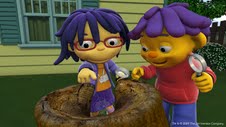 Sid the Science Kid will be celebrating Earth Day (April 22) with four new episodes, the week of April 18, on PBS Kids.
New episodes of The Jim Henson Company animated preschool show will explore a different science theme related to the environment. As in every episode, Sid will begin each episode with a question and spend the day finding answers with help from his friends and family.
The episodes include "Where Did The Water Go?" (What happens to water that goes down the drain?) on Monday, April 18; "Clean Air!" (Why does Sid's dad wear a mask when he paints?) on April 19, repeating on Earth Day; "Reused Robot" (Where does trash go when we throw it away?) on April 20; and  "Save The Stump" (Can an old stump be a home for tiny creatures?) on April 21.
Each episode of Sid the Science Kid focuses on a single scientific concept that is presented using Preschool Pathways to Science (PrePS), a practical science readiness curriculum used in preschool classrooms. Here is Sid sharing his top 5 tips for being gentler to the environment http://pbskids.org/sid/videoplayer.html?pid=8Qmw2JiU95dkX1qaNRvjyTxc5by_BNqF