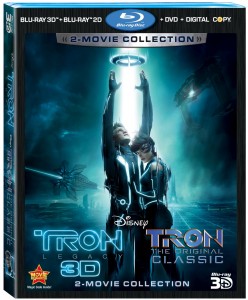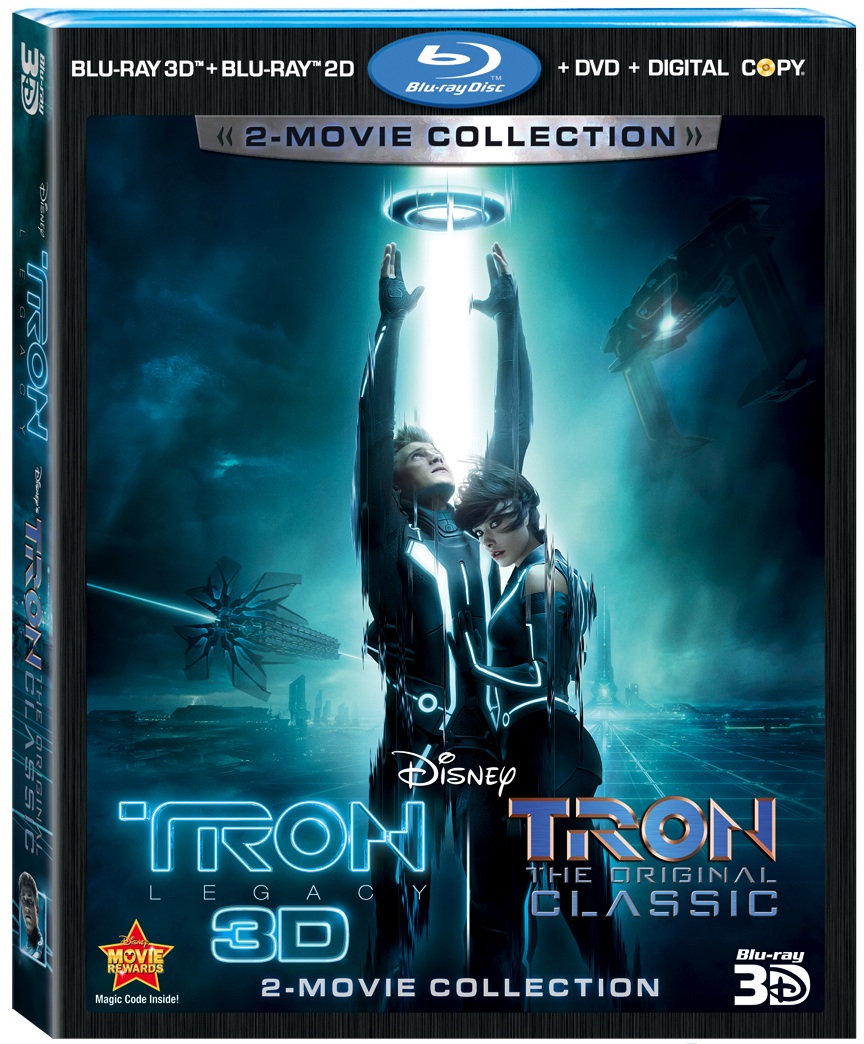 When I heard that Disney was making another Tron I thought kick ass… then I saw the toys and I thought kick ass… then I remember I have a baby/toddler/animal who cant sit still for 2 hours and almost never get to see movies in the movie theatres.  When I heard the movie was out on DVD I was kick ass I can finally watch it… then I found out about the combo pack that gives you both the original and the new movie.  Since the original movie does setup some of the characters it really doesnt hurt to check it out.  The new movie stands on its own but with the first movie as a base – it really gives you some extra feeling for the characters.  Of course you can win it details on the bottom but the one thing that I've got a pretty cool perk
Jeff Bridges' Photo Book Making Tron: Legacy unavailable in bookstores, the Making Tron: Legacy is printed in a limited edition of 1,000 copies.
The Walt Disney Studios is proud to announce the release of its high-tech, action-packed adventure TRON: Legacy [Amazon], available April 5th on multiple home entertainment platforms, including Blu-ray 3D™, Blu-ray™, DVD, Digital Copy, Movie Download and On-Demand.  Also making its long-awaited Blu-ray debut on April 5th is TRON: The Original Classic Special Edition.
Sure to light-up fans this Spring, TRON: Legacy provides consumers with the ultimate Hi-Def Blu-ray experience with breathtaking 1080p visuals and superior 7.1 surround sounds that bring to life the visually stunning world of TRON.  Taking you further behind the grid, are also in-depth bonus features on the making of the film (i.e., creating the futuristic vehicles and world of TRON, storyline mythologies, actors/characters and more) and the all-new Disney Second Screen interactive experience.
Disney Second Screen transforms the movie watching experience by allowing viewers to explore the story behind the film perfectly synched on a second device, like an iPad™ or laptop, without interrupting their enjoyment of the movie. By simply accessing the Disney Second Screen companion application on their Internet-connected device, consumers are able to dive deeper into the film by engaging with elements including 360-degree vehicle turnarounds, interactive progression reels, and more. Disney Second Screen directions and access codes can be found inside the Blu-ray Disc packaging. Audio synching is powered by TVPLUS.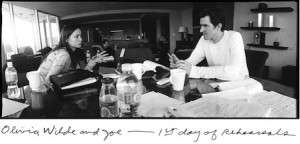 The original motion picture score for TRON: Legacy, released by Walt Disney Records on December 7, 2010, was composed and produced by the iconic and critically acclaimed Grammy® Award–winning French duo Daft Punk. The album peaked at No. 4 on The Billboard 200 and was the highest charting score soundtrack in over a decade. Walt Disney Records will be releasing TRON: Legacy RECONFIGURED, an album featuring 14 remixes of the original motion picture score on April 5th.
How to win it… Contest ends 11:59pm EST. April 15th, 2011.
Leave a comment below with why do you want to win this combo pack of DVD and Limited Edition book and please include some method for us to contact you in the comment (twitter or email).
You get 1 extra entry for tweeting about this contest (you can do this daily). Must contain the following information: #Tron #Bluray #DVD @dadarocks – http://dad.tc/eOiTiT  and you must also comment with the link to your tweet.
Example: I want to win the #Tron #bluray #dvd and limited edition book from @dadarocks – http://dad.tc/eOiTiT
You get 1 extra entry for following @dadarocks on twitter –www.twitter.com/dadarocks You must comment that you're a follower.
You get 1 extra entry for becoming our FAN on facebook – www.facebook.com/dadarocks You must comment that you're a fan.
You will have 24 hours to reply before we pick another winner!
Disclaimer: Thanks to Disney for providing the prizes for this giveaway.