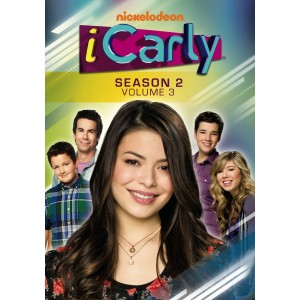 Get ready for the biggest iCarly set ever – 15 iCarly episodes and two hour-long TV movies are coming to DVD with iCarly: Season 2, Volume 3 [Amazon]!  The 2010 Nickelodeon Kids' Choice Awards winner for "Favorite TV Show" closes its second season with a set that features the first-ever iCarly Awards, delves into Sam's pageant girl days and includes the ratings record-setting episode that everyone is still talking about, "iSaved Your Life."  Nickelodeon's groundbreaking hit live-action series stars Miranda Cosgrove as Carly, the host of an incredibly popular teen web show.  Created by Nickelodeon Home Entertainment, and distributed by Paramount Home Entertainment, iCarly: Season 2, Volume 3 comes out on DVD April 5, 2011 for the suggested retail price of $19.99.
iCarly: Season 2, Volume 3 Episode Synopses:
Disc 1
iTwins
Freddie tries to prove that Melanie, Sam's twin sister, is just Sam in disguise. Also, Carly tutors Spencer's nemesis Chuck, who Spencer is convinced is evil.
iSpeed Date
Sam announces a "Take Carly to the Dance" contest for an upcoming Girls' Choice dance. Due to the large turnout, Carly, Sam and Freddie hold a speed-dating session to meet all the potential dates. Meanwhile, Spencer follows a bizarre workout regimen from a new application on his Pear Phone.
iCarly Awards
Carly, Sam and Freddie host the iCarly Awards for the best fan-generated content, and they honor the winners live on the web show. Spencer enlists European swimsuit models to help make the award statuettes.
iHave My Principals
When Carly, Sam and Freddie accidentally get Principal Franklin fired, Miss Briggs and Mr. Howard take control of the school – enforcing harsh rules and a dress code. In addition, Spencer hires an old rodeo star to teach him how to ride a mechanical bull.
iFind Lewbert's Lost Love
When the gang discovers that Lewbert used to be a happy young man engaged to a beautiful woman, they set out to reunite the lost lovers. Meanwhile, Spencer joins the building watch in order to catch a thief.
iMove Out
Fed up with his Mom treating him like a baby, Freddie decides to move out into his own place. Also, the gang starts a successful pet photography business and ends up feuding with a rival pet photo studio.
Disc 2
iQuit iCarly (hour-long TV movie)
The iCarly gang invites two up-and-coming wacky web comedians, Fleck and Dave, to be guests on their show.  When Carly and Sam learn that the guys are entering a web contest for a cash prize, they volunteer to help create an awesome video.  Unfortunately, Fleck and Dave have a big blowout, which results in Carly and Sam taking sides and putting their own friendship to the test.  Their rift makes it increasingly difficult for them to continue doing the web show, leaving Freddie and the rest of their fans to wonder if this is the end of iCarly.  Meanwhile, Spencer's obsession to win a boat pays off and he finds himself the owner of a new speedboat.  However, without a place to dock his prize, Spencer is left to captain the boat in the parking lot, much to the dismay of one of his neighbors, who plays for his college's baseball team – the Pirates.
iWas A Pageant Girl
Sam reveals to Carly and Freddie that she used to compete in pageants when she was younger. She convinces Carly to compete against her long-time rival at a competition in Seattle. Meanwhile, Spencer convinces Freddie to go on a double date but things get a little too competitive.
iEnrage Gibby
When Gibby discovers Freddie and his girlfriend in a compromising position, he vows revenge and challenges Freddie to a fight. Meanwhile, Spencer's art career really takes off when the local paper incorrectly reports his death.
iSaved Your Life (extended director's cut version)
Freddie is injured when he saves Carly from a runaway taco truck.  After Freddie's daring rescue, Carly starts to see Freddie in a different light.  Sam tries to warn him that Carly's feelings are based on guilt and not true love; however, Freddie is happy that the girl of his dreams is finally his girlfriend.  Sam is involved in her own risky mission – competing against Spencer in a paintball game called Assassin.  Danger lurks around every corner and only one person can be left standing… paint-free.
iSpace Out
An eccentric billionaire asks the gang to perform the first live web show from outer space. While they undergo tests, a mysterious little girl visits Spencer in his loft.
iFix A Popstar
When Carly, Sam and Freddie agree to make a music video for a pop star who's trying to make a comeback, they discover that the pop star is out of shape and untalented. Meanwhile, Spencer has trouble dating a woman when he discovers she's Gibby's mom.
Disc 3
iWon't Cancel The Show
Carly and Freddie vow that the web show must go on even when Sam ends up in jail. They try to enlist Spencer's help at the last minute but he has a date he can't cancel.
iBelieve in Bigfoot
Bigfoot fever hits Seattle when hikers capture fuzzy footage of a suspicious figure in the woods. After an expert validates the footage on the web show, Carly convinces the gang to take Socko's RV upstate to join the search for Bigfoot.
iPsycho (hour-long TV movie)
Carly, Sam and Freddie decide to make a slight detour on their way to a web conference to visit a fan of the show on her sixteenth birthday.  When they arrive, they discover that their super fan Nora is lonely and awkward, and no one has shown up for her birthday party.  To make Nora feel better, Carly suggests they do a special iCarly webcast and invite Nora's classmates to her house.  The plan works, and the party is a huge hit.  So much so, that Nora decides she doesn't want her new friends to leave and locks them in her father's recording studio.  Despite their best efforts, Carly, Sam and Freddie are unable to break out of Nora's basement, so they trick her into sending a secret message to Gibby.  Can Gibby decode the message and save the day?
iBeat The Heat
When a heat wave hits Seattle and the power goes out, Spencer comes to the rescue with a Norwegian air-conditioner and generator. Word quickly spreads throughout the building and the gang suddenly finds the loft filled with uninvited guests.
iBloop
This special episode includes never-before-seen bloopers and outtakes from the entire series' run with introductions by the cast.
iCarly: Season 2, Volume 3 Fast Facts:
Street Date: April 5, 2011
DVD SRP: $19.99
Catalogue: 850984
DVD Running Time: 462 minutes
DVD Special Features:
Pilot Episode of T.U.F.F. Puppy (featuring the voice of iCarly's Jerry Trainor as Dudley Puppy)
Shorts:

Meet Guppy
Best of Season 2
How to win it… Contest ends 11:59pm EST. April 8th, 2011.
2 Lucky people will win iCarly DVD! Tell us your favorite character on iCarly is and please include some method for us to contact you in the comment (twitter or email).
You get 1 extra entry for tweeting about this contest (you can do this daily). Must contain the following information: @NickelodeonDVD @dadarocks – http://dad.tc/g4g6K1 and you must also comment with the link to your twitter message.
Example: I want to win the #iCarlySeason2Vol3 DVD from @dadarocks & @NickelodeonDVD – http://dad.tc/g4g6K1
You get 1 extra entry for following us on twitter – twitter.com/dadarocks
You get 1 extra entry for following @NickelodeonDVD on twitter –twitter.com/NickelodeonDVD
You get 1 extra entry for becoming a FAN on facebook –facebook.com/DaDaRocks you must comment that you're a fan
You will have 24 hours to reply before we pick another winner!
Disclaimer: NickelodeonDVD provided the DVD for this raffle