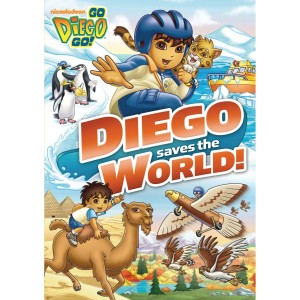 Diego travels the globe rescuing animals in Go, Diego, Go!: Diego Saves The World [Amazon], a six episode compilation DVD. Throughout his adventures, he receives help from his sister Alicia, animal pals, Rescue Pack Click the Camera (voiced by Rosie Perez) and the viewers at home.  Created by Nickelodeon Home Entertainment and distributed by Paramount Home Entertainment, Go, Diego, Go!: Diego Saves The World will be available on DVD April 12, 2011, for the suggested retail price of $16.99.
Go, Diego, Go!: Diego Saves The World Episode Synopses:
Diego the Hero
Alicia's boat gets stuck in the ice as she takes some sick and hurt penguins to the Snowy Rescue Center.  Diego and Baby Jaguar set out to help Alicia, but they'll need the help of their friends since the Rainforest is far away from the Snowy Coast.
Cotton-top Tamarin Cave Rescue
Diego has a surprise for the lonely cotton-top tamarin singing in a cave.  Alicia and Baby Jaguar have been planting lots of trees for the Tamarins so they can move back to the forest.  When the Bobos accidentally block the cave's entrance, Diego sets out to find another way out of the cave so he can reunite all the tamarins.
Bengal Tiger Makes a Wish
Diego is in India helping animals after a big rainstorm when he meets Benji the Bengal Tiger.  His mother had told him that if he ever got lost, she would wait for him at the Wishing Tree, but he doesn't know how to get there!  Diego sets out to the Wishing Tree and along the way helps many animal friends who have wishes.
Diego Saves Baby Humpback Whale
A baby humpback whale is beached on a rocky island and can't get back into the ocean!  Diego sets off to save the humpback whale, running through a rainforest obstacle course and swimming with Tuga the Leatherback Sea Turtle past jellyfish and sharks. When Diego reaches the baby humpback whale, he leads the other humpback whales in making big waves to lift the beached humpback whale into the ocean and back to her mommy.
Jorge the Little Hawk Learns to Migrate
It's getting really cold and Jorge the Hawk is ready to migrate to the Warm Forest.  Diego must help build a bird place to help Jorge fly home.  On this sky-high adventure,Diego and Jorge catch a ride on the warm windy wind, fly through the foggy fog, avoid a lightning storm, and finally make it all the way to the Warm Forest.
Egyptian Camel Adventure
Diego visits his friend Medina in Egypt to learn all about camels when they realize the river in Medina's town is drying out.  They must find a way to fill it up again for the camels and other desert animals to have enough water to drink.  They learn of the legend of the golden cloud, which can bring water back to the river, and head out to find it.
Go, Diego, Go!: Diego Saves The World Fast Facts:
Street Date: April 12, 2011
DVD SRP: $16.99
Catalogue: 821774
DVD Running Time:  Approximately 146 Minutes
I will totally admit I like dora a bit better then diego, but what I love about diego is that he does teach my son about animals.  Over all the episodes on this disc feature 3/4 different areas of the world and with that comes a good selection of animals.  Clearly it'll be entertaining for your child to watch and plus with 146 minutes of run time you might want to pickup a chapter of a book if they really just get into it.  I say 45 minutes tops before you have a little one tugging at your leg.
How to win it… Contest ends 11:59pm EST. April 8th, 2011.
2 Lucky people will win Diego DVD! Tell us your favorite character on Diego and please include some method for us to contact you in the comment (twitter or email).
You get 1 extra entry for tweeting about this contest (you can do this daily). Must contain the following information: @NickelodeonDVD @dadarocks – http://dad.tc/i7x30y and you must also comment with the link to your twitter message.
Example: I want to win the #DiegoSaveTheWorld DVD from @dadarocks & @NickelodeonDVD – http://dad.tc/i7x30y
You get 1 extra entry for following us on twitter – twitter.com/dadarocks
You get 1 extra entry for following @NickelodeonDVD on twitter –twitter.com/NickelodeonDVD
You get 1 extra entry for becoming a FAN on facebook –facebook.com/DaDaRocks you must comment that you're a fan
You will have 24 hours to reply before we pick another winner!
Disclaimer: NickelodeonDVD provided the DVD for this raffle