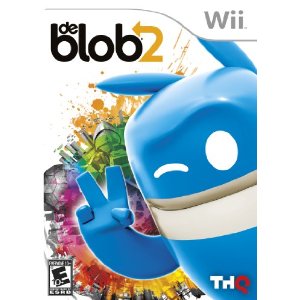 'De Blob 2' by THQ [Amazon] is an open world platformer which utilizes unique painting functionality as the main game mechanic. Sequel to 2008's Wii release de Blob, de Blob 2 is set a few years after the events of the first game and revolves around another attempt to wipe all colorful individuality from Prisma City and its residents. It's up to the player to join the Color Underground and bring color back to the world. Features include: multiplayer support, 12 new single player levels, new power-ups and epic boss battles.
In de Blob 2 Comrade Black and the Inkies are back with a whole new plot to rid the world of color. With all-new help from Papa Blanc and his flock of followers the Blancs, Blob and his friends will have their work cut out for them bringing color back to the citizens of Prisma City. Set off on an action-packed color adventure where custom paints, patterns and music bring the world to life. de Blob 2 is a creative evolution driven by your imagination.
Features
Imagine – Set off on an action packed color adventure with 12 new single player story levels where custom paints, patterns and music bring the world to life any way you want
Laugh – Only the colorful prankster Blob can foil Papa Blanc's evil hypno plot to steal all the color from Prisma City
Power – Speed smash through walls, jet jump over skyscrapers and slam squash Inkies with all new power-ups that turn you into a super Blob
Explore – Paint your way past icy outposts, tropical bio domes and distant space stations to free the fair citizens of Prisma City
Transform – Inside, outside, above the Earth and below it, Blob embarks on mini missions and epic boss battles to restore color and music back to this rich universe
Share – Recruit your friends to join the color evolution in all new cooperative multiplayer modes
Once you start playing its like crack… once you're kids start playing – well then you're golden ;). Really the game play is great, the game design colors are amazing and really shows you how they're pushing the gaming devices to create worlds of their own. There is a done of humor in this game – it made me laugh out loud a few times and kept my kid giggling while we played it.  Its fun for all ages.
How to win it… Contest ends 11:59pm EST. March 16th, 2011.
Win De Blob 2 for Wii! Tell us your favorite feature on the game and please include some method for us to contact you in the comment (twitter or email).
You get 1 extra entry for tweeting about this contest (you can do this daily). Must contain the following information: @THQ @dadarocks – http://dad.tc/ePqefT and you must also comment with the link to your twitter message.
Example: I want to win the #DeBlob2 for #Wii from @dadarocks & @THQ – http://dad.tc/ePqefT
You get 1 extra entry for following us on twitter – twitter.com/dadarocks
You get 1 extra entry for following @THQ on twitter –twitter.com/THQ
You get 1 extra entry for becoming a FAN on facebook –facebook.com/DaDaRocks you must comment that you're a fan
You will have 24 hours to reply before we pick another winner!
Disclaimer: THQ provided the Wii game for this raffle