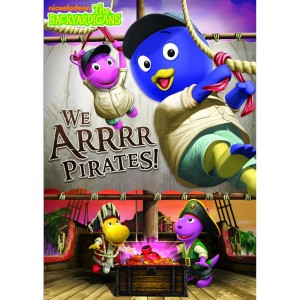 The Backyardigans are setting sail with four exciting pirate adventures on this brand new DVD, The Backyardigans: We Arrrr Pirates [Amazon].  Preschoolers will learn to mambo with Sinbad and become heroes when they rescue King Pablo and his knights from the No-So-Nice Dragon.  Created by Nickelodeon Home Entertainment and distributed by Paramount Home Entertainment, The Backyardigans: We Arrrr Pirates DVD hits shelves March 8, 2011, for the suggested retail price of $16.99.
In every episode of The Backyardigans, five high-spirited neighbors meet in their adjoining backyards and use their imaginations to transform themselves into different locations for epic adventures. Each half-hour episode of this Emmy® Award-winning show features a unique music/dance genre with four original songs, along with real choreographed movements recreated in animation.
The Backyardigans: We Arrrr Pirates Episode Synopses:
Pirate Camp
Captain Austin trains Uniqua and Pablo at Pirate Camp with garage-band music blasting. But training takes a turn for the worst when a fearsome ghost (Tasha) captures the great pirate captain.
Pirate Treasure
Captain Uniqua and Captain Austin sail the high seas in search of treasure with reggae playing. If they don't beat Captain Pablo and Captain Tyrone to it, they will have to walk the plank!
Sinbad Sails Alone
Set sail for adventure and mambo as Sinbad (Tyrone) encounters rough waters, Siren (Uniqua), and Medusa (Tasha)!  The fate of the ship is in bumbling First Mate Pablo's hands.
The Tale of the Not-So-Nice Dragon
The Not-So-Nice Dragon snatches up King Pablo and his Mighty Knights.  Now it's up to the Flighty Fairy (Tasha) and the Grabbing Goblin (Austin) to rescue them!
The Backyardigans: We Arrrr Pirates Fast Facts:
Street Date: March 8, 2011
DVD SRP: $16.99
DVD Running Time: 98 Minutes
We've been playing this for the last week and the kiddo loves the episodes and really whats not to love about these stories which feature Pirates and Knights. Its truly a DVD thats a little bit more designed for boys then girls.  The stories will be a big hit with all kids no matter if their boys or girls but I'm betting the boys like just a wee bit more.
How to win it… Contest ends 11:59pm EST. March 7th, 2011.
2 Lucky people will win Backyardigans DVD! Tell us your favorite character on Backyardigans and please include some method for us to contact you in the comment (twitter or email).
You get 1 extra entry for tweeting about this contest (you can do this daily). Must contain the following information: @NickelodeonDVD @dadarocks – http://dad.tc/fcpkfv and you must also comment with the link to your twitter message.
Example: I want to win the #Backyardigans DVD from @dadarocks & @NickelodeonDVD – http://dad.tc/fcpkfv
You get 1 extra entry for following us on twitter – twitter.com/dadarocks
You get 1 extra entry for following @NickelodeonDVD on twitter –twitter.com/NickelodeonDVD
You get 1 extra entry for becoming a FAN on facebook –facebook.com/DaDaRocks you must comment that you're a fan
You will have 24 hours to reply before we pick another winner!
Disclaimer: NickelodeonDVD provided the DVD for this raffle