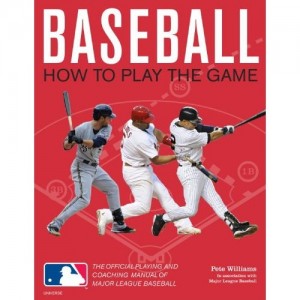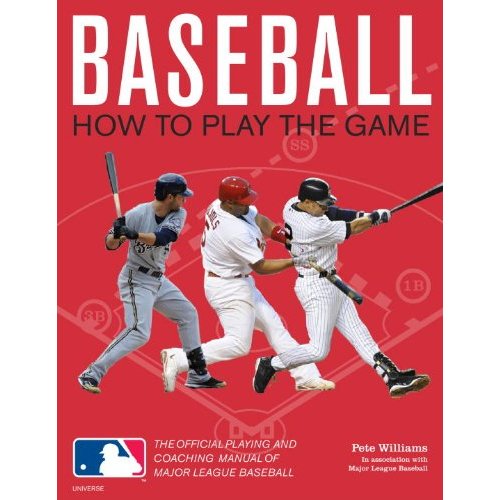 Baseball: How To Play The Game: The Official Playing & Coaching Manual of Major League Baseball [Amazon] by Pete Williams. As spring training has just got underway, we're reminded that its time to start thinking about little league too (like how I made that jump?!).  In all seriousness there are books that are just designed to look super pretty and gather dust on a coffee table, this isnt one of those books.  This books puts the best of the best Major League Baseball players right into an educational break out of drills, tips, advice and coaching.  From every aspect of this game there is a superstar right there giving you basic advice, talking about tips and highlighting key points for playing that position.
The comprehensive guide has fully illustrated with action photos of MLB stars illustrating key points and drills for each defensive position, this book also includes special tips from MLB players on batting, base running, the rules of the game, and coaching.  This will be an indispensable resource for anyone who wants to coach or play the game.
It really covers it all: Batting, Pitching, Base running and sliding, Specific drills for playing all defensive positions, Coaching and rules, Offensive and defensive strategy. Partial list of Big League tips on How to Play the Game: Tony Gwynn (hitting), Sammy Sosa (judging fly balls), Bernie Williams (playing the outfield), Mark Grace (approach to hitting), Alex Rodriguez (fielding ground balls), Jeff Bagwell (hitting), Roberto Alomar (fielding ground balls), Jaret Wright (pitching mechanics), Edgar Renteria (how to play SS), John Lackey (improving your pitching), Carlos Delgado (mastering 1B), Rocco Baldelli (basic approach at plate), Cristian Guzman (fielding ground balls), Danny Kolb (good approach on the mound), Dontrelle Willis (pitching strategies), Torii Hunter (playing the outfield), Jason Marquis (pitching with control), Chone Figgins (sliding), Orlando Cabrera (improving your game), Gary Bennett (becoming a better catcher), Ervin Santana (pitching under pressure), Mark Teixeira (playing 1B), Ryan Howard (hitting), Joey Gathright (playing the OF), Troy Tulowitzki (succeeding at the plate), Joel Zumaya (pitching with poise), Josh Johnson (pitching with confidence).
How to win it… Contest ends 11:59pm EST. February 25nd, 2011.
You must comment telling us who would you want to learn from? please include some method for us to contact you in the comment (twitter or email)
You get 1 extra entry for following us on twitter – twitter.com/dadarocks
You get 1 extra entry for tweeting about this contest (you can do this daily). Must contain the following information:
@dadarocks #MLB #Baseball – http://dad.tc/hpF7Fy  and you must also comment with the link to your twitter message.
Example: I want to win a #MLB #Baseball How to play the game book Thanks to @dadarocks – http://dad.tc/hpF7Fy
You get 1 extra entry for becoming a Fan on facebook –facebook.com/dadarocks you must comment that you're a fan (and leave a little note on the wall)
You get 1 extra entry for suggesting to your friends to become fans of DaDa Rocks  (and leave a little note on the wall) — under the logo of DaDa Rocks is Suggest to Friends name
You get 1 extra entry for subscribing to our Feedburner digest mailing (right side subscribe by email) – you must also comment that you've subscribed
You get 1 extra entry for becoming a friend on Google Connect (right side below facebook box) – you must also comment that you've become a friend
You will have 24 hours to reply before we pick another winner!
Disclaimer: Thanks to Universe Publishing for the prize for this raffle. It's also limited to the USA too.