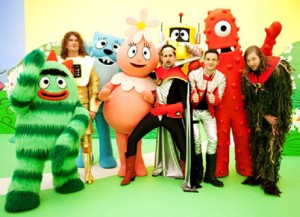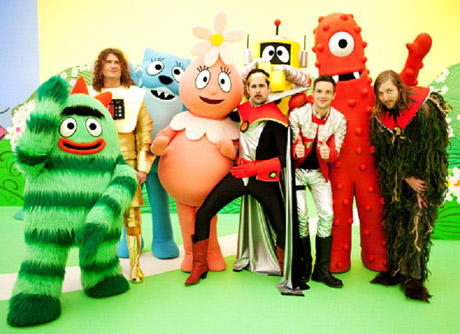 The Killers, Marissa Jaret Winokur and Jack McBrayer among the stars featured in brand new episodes of the "hottest kid's show on TV," Yo Gabba Gabba!, premiering Monday, Feb. 7 – Thursday, Feb. 10, at 1:00 p.m. (ET/PT) on Nickelodeon. The hit series, currently in its third season, is created by Christian Jacobs and Scott Schultz and is produced by The Magic Store and W!LDBRAIN.
Monday, Feb. 7 "Adventure"
Muno and friends go on an Indiana Jones style adventure! They travel through a jungle under Gabbaland and find a golden treasure. The Killers perform "Spaceship Adventure" and Mark Mothersbaugh is featured in his "Mark's Magic Pictures" segment.
Tuesday, Feb. 8 "Nature"
Toodee gets everyone to go camping. They hike, roast s'mores, and tell stories around the campfire. They meet their new friend Barbara (voiced by Marissa Jaret Winokur), and everyone earns a badge. Band of Horses performs "Out in Nature," Jack McBrayer and Paul Scheer are featured in their "Knock Knock Joke" segment and Biz Markie is featured in his "Biz's Beat of the Day" segment.
Wednesday, Feb. 9 "Big"
Brobee gets frustrated about being the little one, and he wants to know what it's like to be big like DJ Lance. He accidentally switches places with DJ Lance and grows big, but Brobee has a hard time being like DJ Lance. DJ Lance and Brobee switch places again and everything is back to normal in Gabbaland. Musical guest Jem performs "Something's Big, Something's Small" and Mark Mothersbaugh is featured in his "Mark's Magic Pictures" segment.
Thursday, Feb. 10, "Ride"
The Gabba gang has fun riding toys. Toodee goes surfing, Muno rides a skateboard, Plex go-carts, Foofa rides a bike with training wheels, Brobee rides a razor and DJ Lance roller-skates. Each of them wears a helmet for safety. Musical guests Dean & Britta perform "Let's Ride."
Friday, Feb. 11 "Adventure" (ENCORE)
And as a super special bonus, CLICK HERE for a sneak preview of The Killers' performance of Spaceship Adventure from the new episode, "Adventure!"
I got to check out Adventure & Nature both are my new favorites right behind New Friends with Jack Black, Adventure is Indiana Jones with some tosses of 80's video games like zelda and tomb raider.