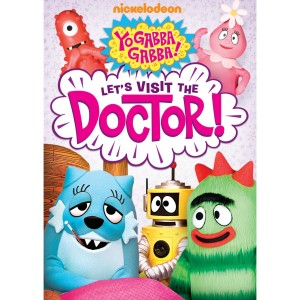 Is that a sniffle?  Have a dose of fun medicine and get ready to dance and sing with the all-new DVD release Yo Gabba Gabba: Let's Visit the Doctor! [Amazon] Join Muno, Foofa, Brobee, Toodee and Plex for four fun episodes that deal with all-too-common illnesses.  Special guests featured in these episodes include Anthony Bourdain, Of Montreal and Biz Markie. Created by Nickelodeon Home Entertainment and distributed by Paramount Home Entertainment, Yo Gabba Gabba: Let's Visit The Doctor! was released on January 11, 2011 and for $16.99 for Approximately 96 minutes of peace and quite – well worth it!
Yo Gabba Gabba: Let's Visit the Doctor! Episode Synopses:
Doctor
Toodee gets sick and needs to rest. The doctor visits and everyone helps Toodee feel better.
Teeth
Muno has a loose tooth and wiggles it until it comes out, then writes a note and the Tooth Fairy brings him a toothbrush.  With only one tooth Muno looks strange, but in the end it starts to grow back.
Clean
Everyone learns good clean manners when they play with toys and have to clean them up.  Afterwards, they learn to wash their hands and brush their teeth.  At the end, they all sing a fun bath time song playing with bath toys.
Car
It's time to go for a ride in a car!  "Keep Trying" familiarizes them with the seat belt and encourages them to buckle up.  "Danger" keeps the characters from playing in the road and "Car Ride" teaches them all about the thrill of traveling.
How to win it… Contest ends 11:59pm EST. February 6th, 2011.
2 Lucky people will win the Yo Gabba Gabba DVD Lets Visit the Doctor! Tell us your favorite character or guest on Yo Gabba Gabba and please include some method for us to contact you in the comment (twitter or email).
You get 1 extra entry for tweeting about this contest (you can do this daily). Must contain the following information: @NickJrDVD @dadarocks – http://dad.tc/hzyHSj and you must also comment with the link to your twitter message.
Example: I want to win the @yogabbagabba doctor DVD from @dadarocks & @NickJrDVD – http://dad.tc/hzyHSj
You get 1 extra entry for following us on twitter – twitter.com/dadarocks
You get 1 extra entry for following @NickJrDVD on twitter – twitter.com/NickJrDVD
You get 1 extra entry for becoming a FAN on facebook –facebook.com/DaDaRocks you must comment that you're a fan
You will have 24 hours to reply before we pick another winner!
Disclaimer: NickJrDVD provided the DVD for this raffle