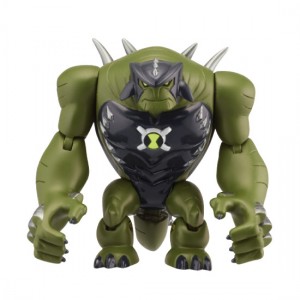 Welcome to the sixth day of our 10 days of gifting  – Today we have a pair of really cool Ben 10: Ultimate Alien Toys from Bandai Ultimate Humungousaur (DNA Alien Heroes) [Amazon], & Water Hazard (DNA Alien Heroes) [Amazon]. Here is a link to some of the other figures: http://www.bandai.com/ben10/products/figures. I actually watch Ben 10 myself, and as that goof ball that does have toys around the office these would be perfect for Dads or Kids.
Every day at random times we'll be announcing a giveaway – it'll only be for 24 hours! Also we'll be switching up how to enter to win the prize. You may be asked to comment on a facebook post over at http://facebook.com/dadarocks or to post&follow @dadarocks on twitter.com http://twitter.com/dadarocks or you may just have to leave a comment on the thread.
For today we'll pick one lucky winner tweets " I want to win the #Ben10Toys from @BandaiAmerica thanks to @dadarocks at http://bit.ly/fax8cz " and don't forget you must follow @dadarocks as well and come back to leave a comment with the tweet URL.
I'd also like to thank Bandai for providing the prizes.